Whether they're added in error, someone has asked to be removed, or if someone no longer needs to be directly involved in a thread, the thread creator can remove participants.
How to remove participants
1) Choose to 'edit' the thread you created: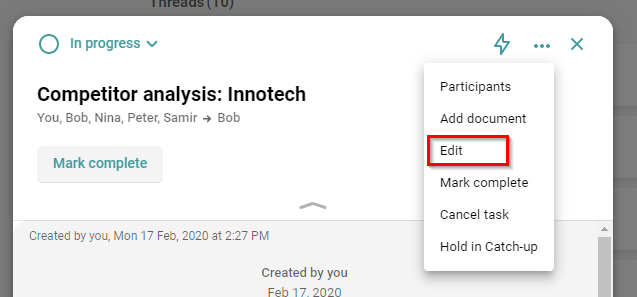 2) Remove participants by clicking on their avatar and selecting 'Remove' from the menu.

You will be asked to confirm the change.
The removed participant/s will be notified of the change and will no longer have access to the thread or recieve further notifications. All comments, actions and attachments they have contributed up to that point will remain accessible.
If the participant was the assignee on a task, the task will simply become unassigned, and available for others to pick up.
Signature threads
Removing a signer from a signature thread effectively invalidates the thread. In this case, in order to remove a signer, the thread must first be cancelled.
1) Cancel the signature thread.
2) Follow the participant removal steps above.
---
Read on to find out more about: