Notes are used when there isn't a specific action to do, but a place where you can have a conversation or share information. 🗣
New tasks can however be created as a result of discussions within notes. This means you can separately keep track of things that need to be done that spawn from conversations and ensure they still get done! 💥
To create a note, start by clicking on any 'Create' button --> click on the arrow menu under the blue 'Task' option and select 'Note'.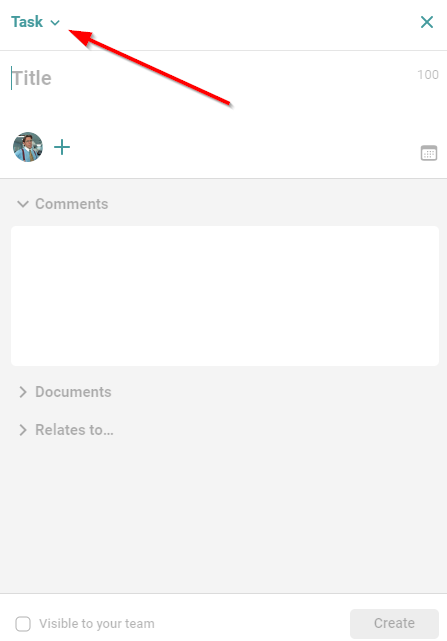 Similarly with creating a task, start the conversation by entering the following information if applicable: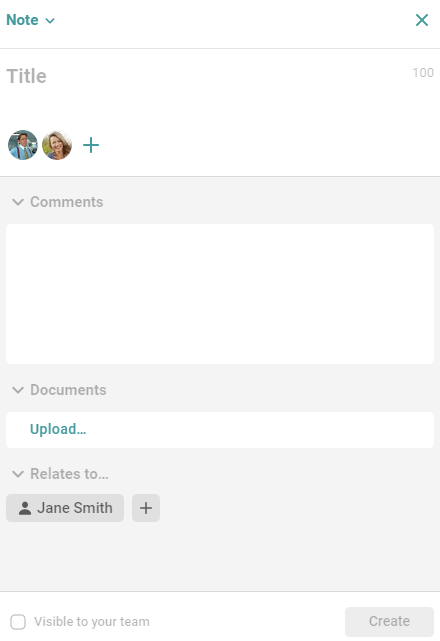 1. Participants - who does this conversation involve? Add any other participants. Note conversations require two or more participants.
2. Title - Briefly summarize the discussion topic or add a question.
3. Comments - Add more detail, comments or links.
4. Documents - Add files or images by dragging and dropping, or uploading, from your device or from Google Drive / Dropbox / Instagram.
5. Team project - Categorize your task as part of a shared team project, so that it's visible to the rest of your team.
6. Private tags - Categorize your task with a label that is only visible to you e.g. urgent or important or subject-related.
7. Team tags - Categorize your task with a label that is visible to your team
8. Visible to your team - Decide whether to keep this task private to you and any direct participants, or check the box if you want the whole team to be able to see what's going on.
Notes can be edited or added to at any point just by opening the note and clicking the 3 dot menu to see the options.
Once you or the participants feel the discussion has come to an end and can be closed, each participant can archive the note so that it is no longer active for them. 📂
Read the next guide on archiving notes.
You can also learn how to create templates to use to make it easier to create any recurring notes i.e. similar conversations that may come up regularly.
---
Need some inspiration for tasks you can create?
Check out some examples and suggestions here to give you some ideas.