GetBusy allows you to communicate, collaborate and get things done with contacts that are outside of your team or organisation e.g. friends, customers, clients, partners, suppliers or vendors. 🤝
You can invite connections to view and participate in tasks and threads.
Anyone you add outside of your team will only be able to see the threads you add them to - they won't be able to see any of the other data within your account like connections, projects and threads of other team members.
1. To add a non-team member connection, go to the Connections area and click on the

icon, and either:
a. Enter someone's email address
b. Select a connection from your shared team directory (connections which your other team mates have added before)
c. Import contacts in bulk from your email application (Gmail / Office 365 / Outlook / Yahoo / AOL), MAC or by simply uploading a CSV file of email addresses.
2. Next, if you're a Team Owner, select to invite them as a 'Regular' connection.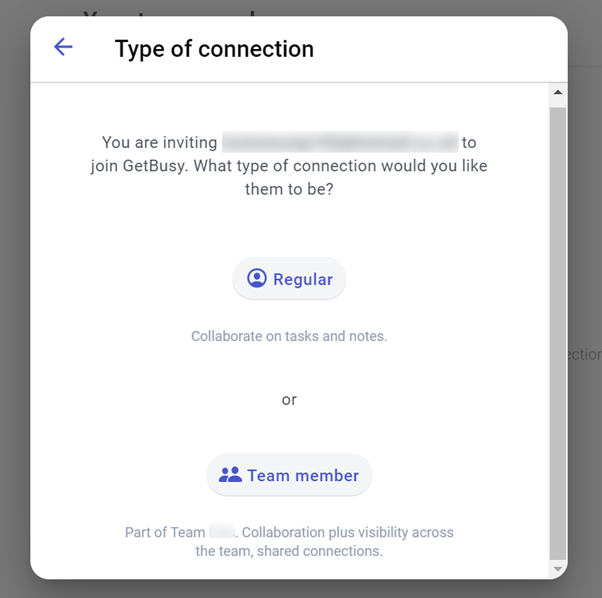 If you're not a Team Owner, they will just be added as a regular non-team connection, unless the Team Owner has already invited them to be a team member.
3. Once added they will appear in your connections list and you'll then need to create a to-do/note with that connection. Once this has been created, only then will your connection will be sent an email notification to securely view and interact with your task/message with you.
Read about: Do non-team connections have to create a GetBusy account and what will they see when you've sent your task/message to them?
N.B. Connections will appear as their email address listed in your connections list, until/unless they create their GetBusy account where they'll have then specified their name they wished to use.
Using GetBusy with external connections will make life easier for all parties by allowing you to not only organise all your work and communications in one place ✅, but will eliminate multiple messy emails ✅and help you work together more efficiently ✅ and harmoniously! ☮
Read more about: