Workiro is all about working with other people.
You can bulk import contacts from existing data sources as Workiro connections to save time and manual effort.
Don't worry, non-team contacts won't receive anything from Workiro when you add them, until you send them a thread - so you can add them in advance to your connections list so they're readily available for you to add to tasks when you need to.
Workiro supports connection import from a variety of data sources such as Google Contacts, Microsoft Outlook and CSV file.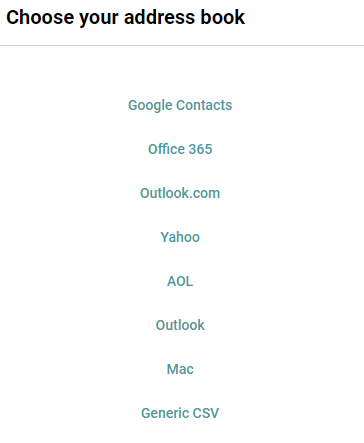 You simply connect to your data source, choose the contacts you want to import in to Workiro and decide whether you want to add them to your Workiro team or not.
Select your data source
When adding a connection via the + ADD button, you are presented options to enter an email address, access your team directory or import contacts.
Select Import contacts...
From the list of available data sources that appears, select the one appropriate to you and follow the instructions.
This example demonstrates the use of the Generic CSV data source. You'll be instructed to select a CSV file from your device.
Our example CSV file contains three columns (Email, FirstName, LastName) and has 5 contact records.

Once you have connected to or uploaded your data source, you'll be presented with the available contacts to import in to Workiro.
Select the contacts to import
Workiro will present you with a list of contacts available from your data source, but will hide any contacts that already exist as Workiro connections.
Simply select the contacts you wish to import as Workiro Connection and select Get contacts.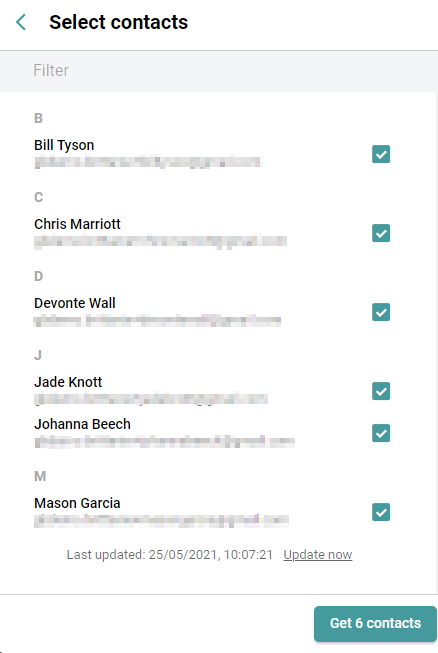 Review your imported connections
Your imported connections will appear in your Workiro connections list.
-----
Updating or removing connections
Connection relationship types and properties
Do my connections need a Workiro account?