GetBusy is all about working with other people.
You can bulk import contacts from existing data sources as GetBusy connections to save time and manual effort.
Don't worry, non-team contacts won't receive anything from GetBusy when you add them, until you send them a message or task - so you can add them in advance to your connections list so they're readily available for you to add to tasks when you need to.
GetBusy supports connection import from a variety of data sources such as Google Contacts, Microsoft Outlook and CSV file.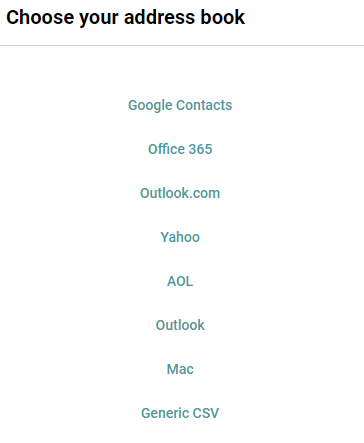 You simply connect to your data source, choose the contacts you want to import in to GetBusy and decide whether you want to add them to your GetBusy team or not.
Select your data source
When adding a connection via the + ADD button, you are presented options to enter an email address, access your team directory or import contacts.
Select Import contacts...
From the list of available data sources that appears, select the one appropriate to you and follow the instructions.
This example demonstrates the use of the Generic CSV data source. You'll be instructed to select a CSV file from your device.
Our example CSV file contains three columns (Email, FirstName, LastName) and has 5 contact records.

Once you have connected to or uploaded your data source, you'll be presented with the available contacts to import in to GetBusy.
Select the contacts to import
GetBusy will present you with a list of contacts available from your data source, but will hide any contacts that already exist as GetBusy connections.
Simply select the contacts you wish to import as GetBusy Connection and select Get contacts.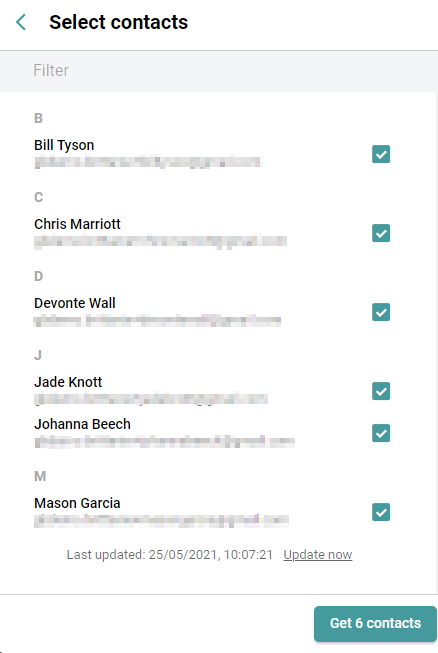 Select the type of connection
For Team Owners only:
When importing multiple GetBusy connections, you can choose whether to import them as regular connections (non-team/external e.g. clients) or team members (e.g. colleagues).
Select the appropriate option for you, but remember that team members have greater visibility of the data in your GetBusy account and incur additional charges on our paid plans.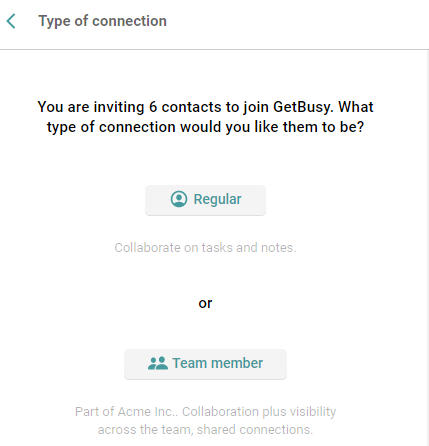 Team Members however will only be able to add regular external connections and will not have a choice in type of connection they can add. You will need to ask your Team Owner to invite other team members to the team before you can start working with them in GetBusy.
Review your imported connections
Your imported connections will appear in your GetBusy connections list.
🆘 If you have added someone as an external connection, but should have been a team member, please contact the GetBusy Product Support Team at help@getbusy.com who will help you with making any team changes necessary.