Welcome to Workiro
We've created this guide to take you through the first steps so you and your team can get going with confidence. We'll briefly cover:
Threads
Workiro is based around threads — distinct units that have titles, objectives, assignment, attachments, status, participants, and specific conversation.

A single interactive source of truth, with all the history, in one place.
Shared tasks are built on principles that minimise the need for questions and chasing, reduce the likelihood of delays, and eradicate confusion, uncertainty and anxiety. Do more of the right things, in more of the right ways, with the right people involved, all organised in the right places — all with less effort. Learn more...
Select documents from anywhere, choose an appropriate signature option, quickly prepare them for signing, brand the experience beautifully, communicate with clarity, track status easily, sign simply — with everything stored automatically. Learn more...
Where you just need to discuss work or share information use a note. You can always create new tasks from comments in note conversations, once actions are needed. Can also be used for personal notes just for your own reference. Learn more...
More than just 'files', Workiro understands that documents initiate, communicate and record work. Whether they are related to threads, connections or projects, your work with documents happens right inside Workiro.
Learn more...
Five key areas
We've created Workiro to help you get work done. Whatever you're doing we aim to bring control, clarity and visibility to you and your team.
When you are working with threads, documents or both, there are five key areas in Workiro:
Where to find the things you need to do. All tasks you've created for yourself or assigned to you by others. Prioritise and order your tasks, then mark them as complete once done.
Catch-up

Like your inbox – for everything that's new or needs your attention.

Get up-to-speed on latest activity, updates, quickly action things or hold important tasks in Catch-up for later.

Connections
The directory of contacts and organisations that you and your team work with - like folders or records - where you can see any tasks, discussions and documents related to them.

Collect your work together in team projects and relate them to your connections.

Smart views
See what else is going on in Workiro with filtered views, organised by tags, projects and other smart views.
Settings
Manage your profile, team, templates, team account subscription and see product updates.
Getting set up
1. Install the Workiro app for Desktop for Windows or Mac - for easiest access, the best experience and visibility, and less email notifications.
2. Complete your personal profile - and your organisation details including branding - before you start working with others. Your picture and profile will help others trust who is communicating with them.
3. Manage your team - if you're the Team Owner then go to Settings > Team > Invite.
4. Add contacts and create organisations in your connections directory.
Getting started: The basics
1. To get familiar with creating threads try creating a task and you'll see it appear in your 'Assigned to me' list. From here you might begin to assign tasks/queries to other people in your connections list. Remember, your connections don't need a Workiro account to work with you.
2. Once familiar with thread creation why not upload a pdf document for signature.
3. You can upload files (up to 200MB) for reference in any thread, store them directly against people or organisations from your connections, or add them to projects.
4. Once you get going you can consider managing your workload by pausing tasks until you are ready to work on them.
5. Don't forget to mark your tasks as complete once they're done! ✅
Getting busier
Templates
1. For repetitive tasks and processes you can save a huge amount of time by creating templates.
2. You can share the templates with your team - to keep everyone consistent.
3. Set schedules on your templates so recurring tasks will be created whenever you want.
Organising your work
4. Organise work consistently across your team with tags, and by 'relating' threads and documents to your connections, for visibility and easy retrieval. Group threads and documents into team projects. Use private tags to keep a close eye on what is particularly important to you.
5. Use the 'upcoming' filters in Assigned to me and Smart views - to see any tasks with a deadline date.
6. Stay on top of your updates in Catch-up by clearing them down. Alternatively you can keep items in catch-up to deal with them later.
Getting advanced: Shortcuts and streamlining
1. Add the Workiro Chrome or Microsoft Edge extension
This allows you to open a Workiro connection from any email address on a web page you're visiting (or create one if it doesn't already exist) with just one click.
2. Add the Workiro add-in to Outlook
Turn any email into a Workiro task...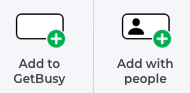 3. Keyboard shortcut/s
Create your own shortcuts to instantly open a Workiro task no matter what's on your screen. Even configure to pre-add your team or specific people.
4. Zapier integrations
Explore Zapier and our pre-built Zaps to start connecting Workiro with your other apps/tools to automate processes.
E.g. automatically create Workiro tasks or connections from Slack, emails, CRM systems, calendars, spreadsheets, project management systems, etc.
5. Get Workiro inside Netsuite with our SuiteApp
-----
Contact us if you have any questions, technical issues or you'd like a personalised walk-through to see Workiro fully in action.
You can also see more guides and tips in our Help Centre.