The GetBusy add-in for Microsoft Outlook for Windows, Mac & Web provides a quick way to convert dreaded emails into productive GetBusy to-do's and notes.
🚨 The Outlook add-in is currently available in a beta format, pending availability in the Microsoft Add-in Store. Microsoft have informed us they are experiencing publishing delays due to the current global situation - we're happy to be patient.
Installing the beta add-in
In the meantime, you can install the add-in manually in Outlook for Windows, Mac & Web using the following process:
In Outlook, click Get Add-ins from the Home tab on the ribbon. You can also select File > Manage Add-ins, which will take you to Outlook on the web and open the Add-Ins for Outlook dialog there
From the Add-Ins dialog, select My add-ins in the left navigation bar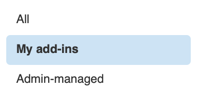 (If you don't have these options, it is possible that they have been disabled within your Office365/Exchange configuration, in which case it is possible for the add-in to be centrally deployed by your IT contact.  This Microsoft knowledgebase article provides useful information on how to do this)...
https://docs.microsoft.com/en-us/microsoft-365/admin/manage/manage-deployment-of-add-ins?view=o365-worldwide
Scroll down to Custom add-ins, select the + Add custom add-in option, followed by Add from URL...

Paste the following URL into the Add private add-in from a URL window
https://outlookaddin.getbusy.com/manifest.xml

If you trust us, and you have good reason to, you need to choose Install when warned about the add-in not yet being verified by Microsoft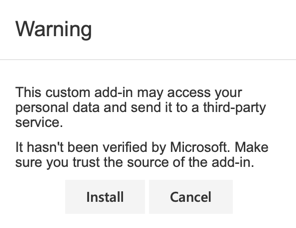 After a short wait, your screen should refresh and you'll see that the add-in has been installed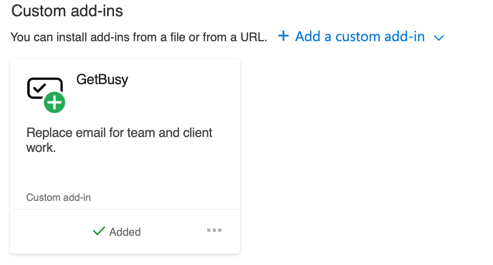 N.B. You may need to restart Microsoft Outlook before the add-in appears and operates correctly.
Using the add-in
In order to use the Outlook add-in, you simply need a GetBusy account.
Once installed, the GetBusy Outlook add-in places an Add to GetBusy button on your Outlook Email toolbar.

With an email selected, simply click the Add to GetBusy button and the following will occur:
The GetBusy app will appear embedded in Outlook
It will ask you to sign into GetBusy if you haven't done so previously in Outlook - make sure to tick 'Keep me signed in' to save having to sign in every time you click to 'Add to GetBusy'
A new GetBusy thread window will open and be pre-populated using information from the email as follows:

Email addresses in To:, From: Cc: -> GetBusy participants (connections are created in GetBusy automatically)
Email subject -> GetBusy thread title
Email body -> GetBusy extra information + attachment (in HTML format)
Email attachments -> GetBusy attachments
You can remove or replace any of the data transferred from the converted email before creating the thread in GetBusy, such as removing participants, attachments, or removing parts of the message body that are not helpful.
Note: Currently the Outlook Add-in has a minimum requirement of Office 365, version 16.0.11629 running on Windows 10, version 1903, using Microsoft Exchange Server. It is also available on Office for Mac, and on the Web. 
Read more about other ways to connect GetBusy with other tools you're using: