The GetBusy add-in for Microsoft Outlook for Windows, Mac & Web provides a quick way to convert dreaded emails into productive GetBusy to-do's and notes.
Minimum requirements:
Microsoft Outlook: 2016, 2019, Office 365 for Windows, Mac and Web
Microsoft Exchange: 2016, 2019, Online / Office 365
Microsoft Operating System: Windows 8 or later, Windows Server 2016 or later
Whilst older combinations of Outlook, Exchange and Operating Systems, such as Outlook 2013 running on Windows Server 2012, may allow you to install the add-in. Some add-in features may not work.
If you are using a Gmail account through Outlook, please note that this is not currently supported.
If you are using Internet Explorer 11 for browser access to Outlook (via Office365.com), please note that this is not supported.
Installing the add-in
You can install the add-in manually in Outlook for Windows, Mac & Web using the following process:
In Outlook, click Get Add-ins from the Home tab on the ribbon.
In the Add-Ins dialog, use the search field to find the GetBusy add-in and click Add.

If you don't have these options, it is possible that they have been disabled within your Office365/Exchange configuration, in which case it is possible for the add-in to be centrally deployed by your IT contact. This Microsoft knowledgebase article provides useful information on how to get the Add-in.
After accepting the terms of service and privacy policy, plus a short wait, your screen should refresh and you'll see that the add-in has been installed
N.B. You may need to restart Microsoft Outlook before the add-in appears and operates correctly.

Using the add-in
In order to use the Outlook add-in, you simply need a GetBusy account.
Once installed, the GetBusy Outlook add-in places an Add to GetBusy button on your Outlook Email toolbar.

With an email selected, simply click the 'Add' button to create a personal to-do task just for yourself, or the 'Add with people' button to create a task with multiple participants. The following will then occur:
The GetBusy app will appear, embedded in Outlook
It will ask you to sign into GetBusy if you haven't done so previously in Outlook - make sure to tick 'Keep me signed in' to save having to sign in every time you click to 'Add to GetBusy'
A new GetBusy thread window will open and be pre-populated using information from the email as follows:


Email subject -> GetBusy thread title
Email body -> GetBusy extra information + attachment (in HTML format)
Email attachments -> GetBusy attachments
If using 'Add with people' -> Email addresses in To:, From: Cc: -> GetBusy participants (connections are created in GetBusy automatically)
You can remove or replace any of the data transferred from the converted email before creating the thread in GetBusy, such as removing participants, attachments, or removing parts of the message body that are not helpful.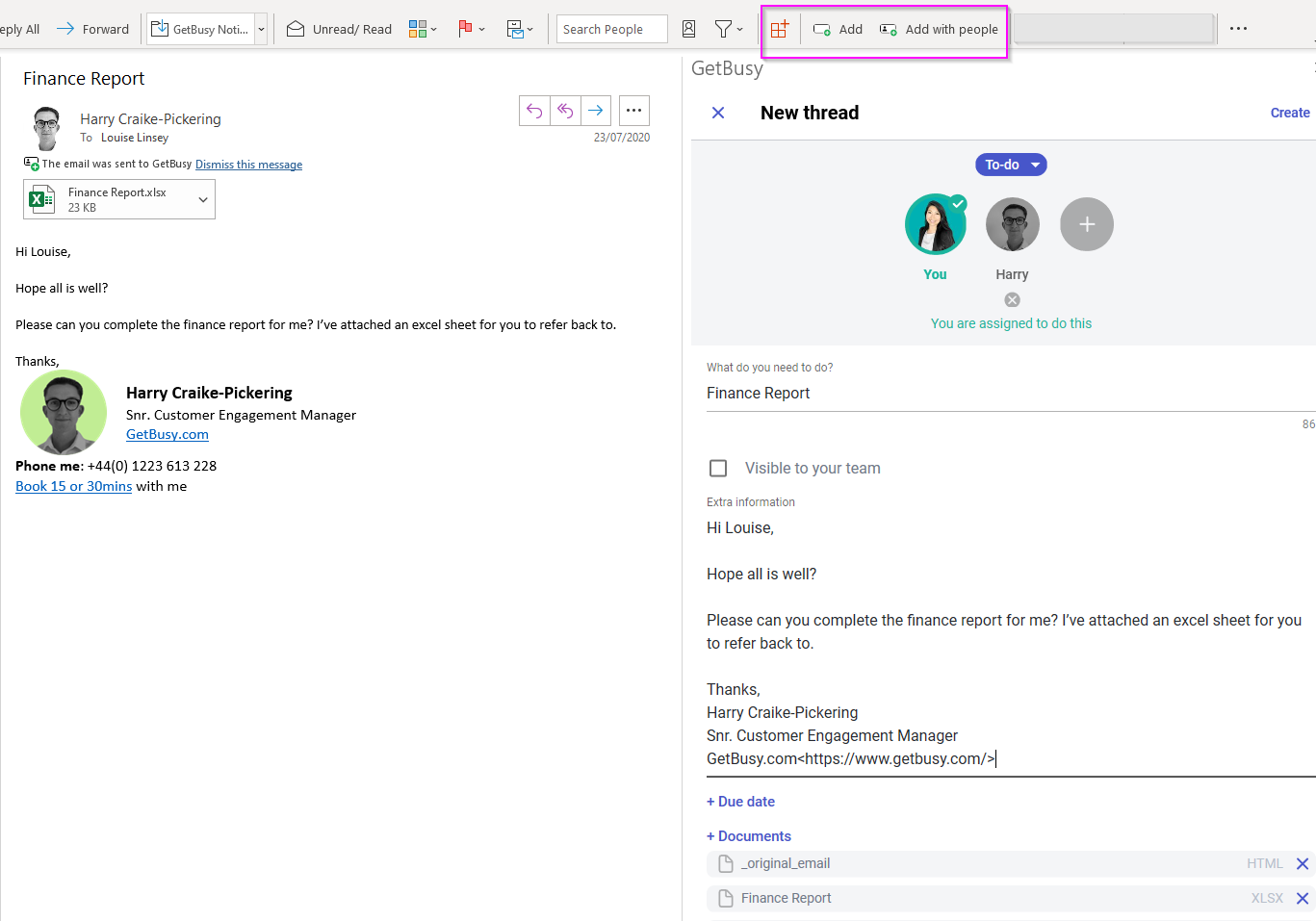 Read more about other ways to connect GetBusy with other tools you're using: