Never underestimate the incredible power behind GetBusy's pause feature! ⚡
⏸ Pausing to-do's effectively in GetBusy allows you to:
Focus on a shorter, more achievable and immediate task list; 🎯
Better plan your time and the tasks ahead; ⏲
Manage expectations of others; 👌
Suppress reminder notifications (that may otherwise be annoying) until you're ready; 📢
Manage repeat/recurring tasks more easily
You can pause any active to-do's assigned to you - no matter who originally created the task.
Other participants cannot pause to-do's assigned to other people, only those that are assigned to themselves, so that each person can control and manage their own workload.
-------------------------------------------------
💪 Power User Tip:
Your active to-do list should ideally be focused on things you want to do today.
Anything beyond today should be paused into the future so you can more effectively organise, prioritise and plan.
--------------------------------------------------
To pause a to-do, open a to-do and click the 'Pause' button.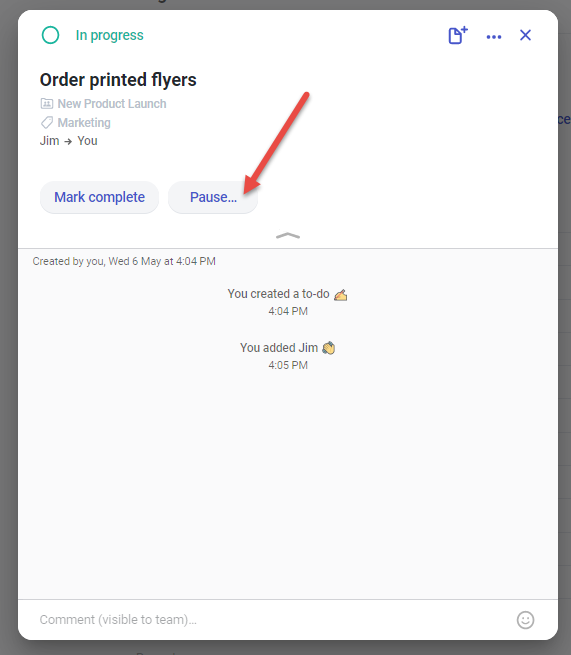 Alternatively on an open to-do, using the three dots '...' menu, select the 'Pause' option.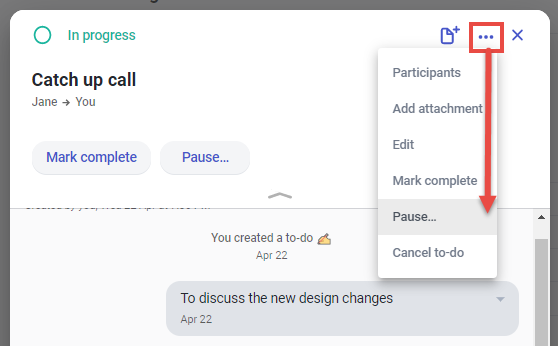 Using the date and time picker, choose when you would like to pause the to-do until, when it will then be automatically resumed i.e. either when you think you'll have time to action this or when you'll be ready to review it.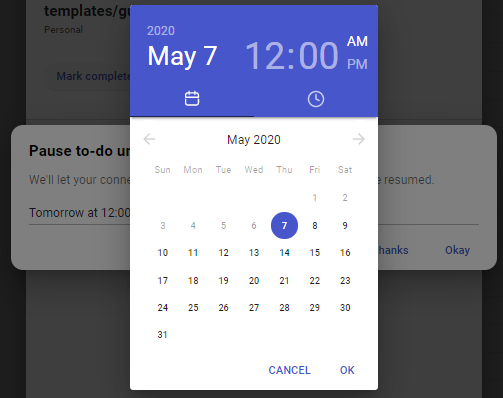 Pause is a shared status so other participants involved on a to-do will be able to see if and when to-do's have been paused by the assigned person.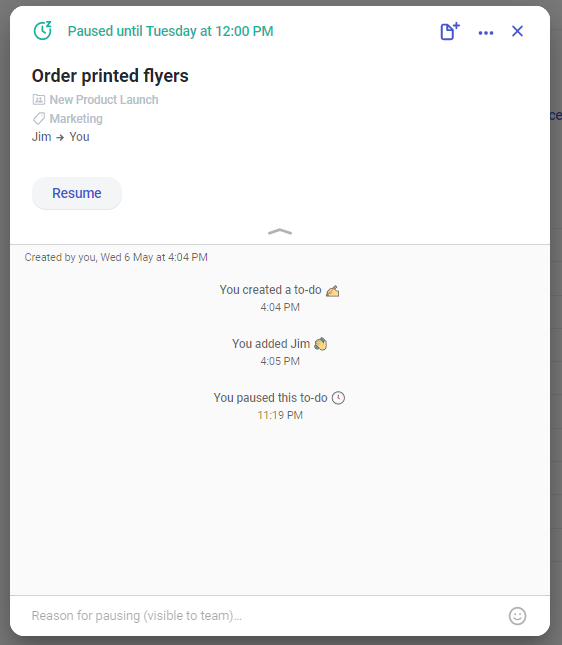 To improve communication and help manage other participants' expectations, the person pausing should ideally comment when pausing with a quick update as to why they may be pausing or to confirm acknowledgement of the task.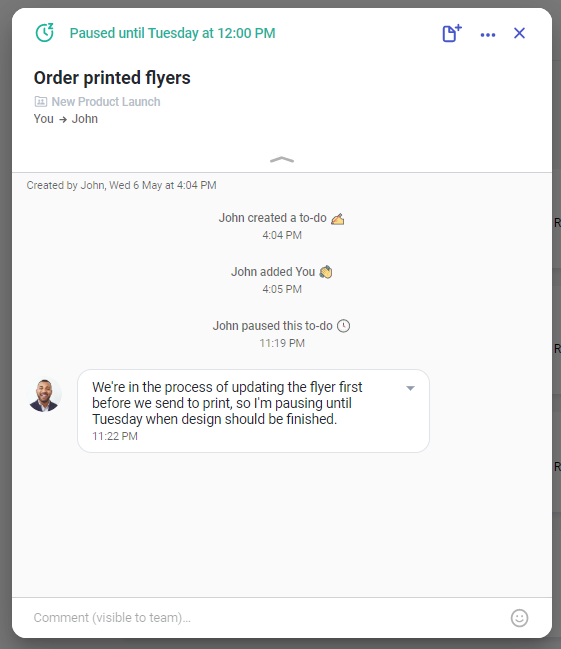 At your chosen date and time, the to-do will automatically resume into your active to-do list (added to the bottom, which you can then reorder as you wish) and GetBusy will remind you of this via email notification and in your Catch-Up area.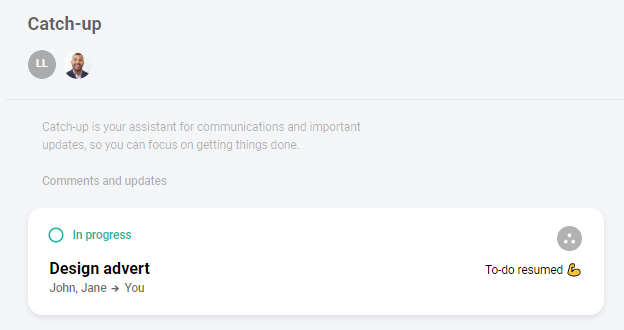 Once resumed, you can then choose whether to:
a) action and complete the to-do as originally planned; 👍
b) add an update (comment); 💬
c) re-pause the to-do if you're still not able to action the to-do. 📆
---------------------------------------
💪 Power User Tip:
For repeat/recurring tasks that need to happen multiple times a day, week, month etc, rather than marking these tasks as 'complete', try pausing the one to-do repeatedly each time you've done the task, until the next date/time you have to do the same task.
Although to-do templates can help with creating repetitive/similar tasks, pausing in this way will save you from having to keep recreating new tasks which are the same from scratch, whilst you can maintain all the history and comments around the same task in one thread! 🙌
❗ However, unless you're using the to-do as a repeat/recurring task, you should generally try to avoid pausing tasks repeatedly many times. Although it could be that the to-do is genuinely lower priority than other tasks in your list for that day (especially as things naturally change day-to-day and new things come up 💡), this could also indicate that the task should be paused until a more realistic date/time than originally estimated 🤔.
Or perhaps your task may be too big and would be more effective if split up into smaller to-do's 🔨 so that some progress can be made towards it rather than putting off the whole thing. ✅
----------------------------------------
By using GetBusy's pause feature with its automatic reminders, GetBusy stops you from forgetting about a paused task forever 🙉, keeping you accountable and on top of things, so nothing slips through the cracks! 💯