By maintaining a version history to your documents your organization and individuals can ensure data integrity, facilitate collaboration, and maintain a clear record throughout the document lifecycle. There are many clear benefits to versioning documents in Workiro.
Revision Tracking: As changes are made over time, showing the evolution of the document.

Collaboration: Multiple users can work on a document simultaneously or in sequence, with each version reflecting contributions from different collaborators.

Backup: Each version serves as a form of backup that can be referred to in case of errors or if recent changes are not satisfactory.

Control: Versioning helps in managing edits and ensuring that only authorized changes are made, which can be crucial for regulatory compliance.

Historical Record: It maintains a historical record of the document's progress, decisions made, and who made them.

Transparency: Stakeholders can see the development and reasoning behind changes, fostering transparency in the process.

Quality Assurance: It allows for the review and quality control of content before a final version is published or distributed.
Working with Microsoft Office documents.
The simplest way to maintain versions of Microsoft Word, Excel and Powerpoint documents is to use our powerful Office add-in to edit the document in Office for the web. New versions of the document will be automatically saved when you have finished making your edits.
Working with other documents.
Although you could simply upload or attach a new file/document to a thread or connection record as an additional file, you can also now just replace existing files with a new version to keep it tidier and make it clearer which is the latest version that should be referred to.
Naturally we'll track who uploaded and when, so you can see the full audit history and access previous versions.
Whether it's attached to a thread (1), or uploaded against a connection or project record (2), anyone with access to the document can add a new version. Here's how:
Adding a new version of a document in a thread
In an open thread with existing documents/files attached, click on the Document Link above the Mark Complete button.
Not sure how to add a document to a thread? Find out here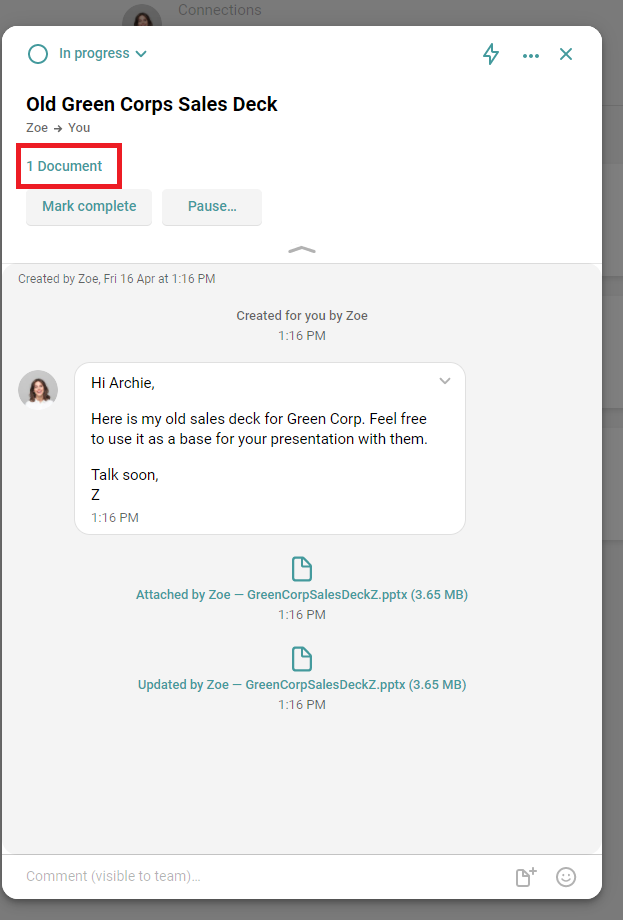 Hover over the document or file you wish to replace with a new version, and click the … ellipsis menu, select upload new version, then select or drag and drop the file you wish to upload.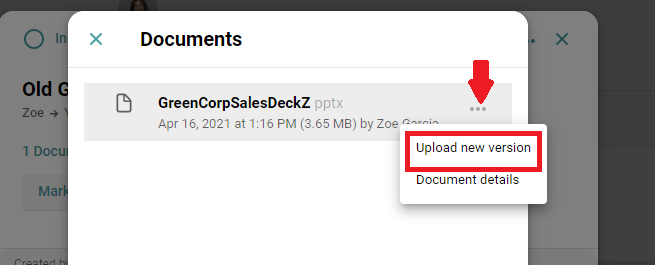 Once your new updated version is uploaded, Workiro updates the documents list on the thread with the latest version for easy reference.
To see past versions, when each version was uploaded and by whom, simply view the Document details or view in the chat itself.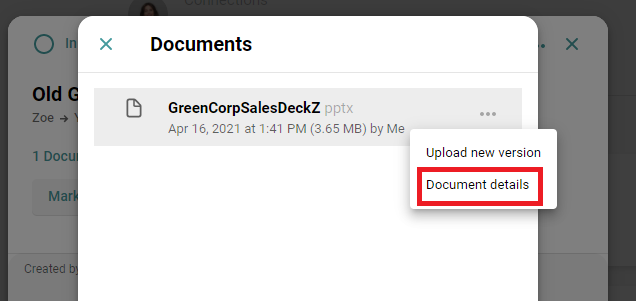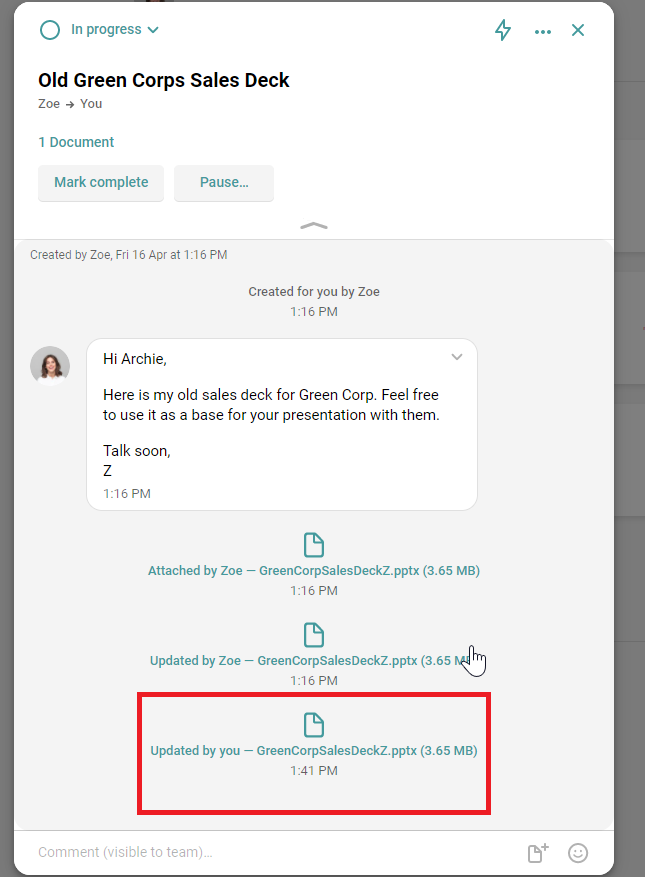 Improve clarity by seeing who uploaded previous versions without having to call, email or hunt them down. Workiro will also provide a timestamp via the document details or the chat. Always know when something has been updated, along with who was responsible for updating it.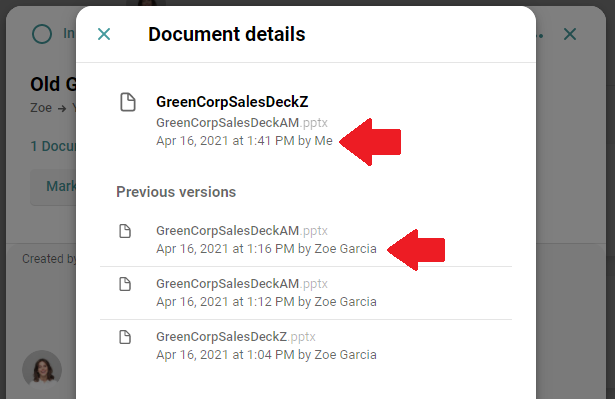 Adding new file versions on a connection record:
Documents and files can be uploaded and stored against a connection or organisation record for easy internal access and reference. Read more about this here.
You can update these files related to connections at any point, by replacing with new versions as and when needed.
First, find the individual or organisation in your Connections to view all documents related to them.
Hover over the specific document you want to update with a new version, click on the ... ellipsis menu and select Upload new version. Then select your new file to upload or drag and drop your file into the upload area.
Once you've added a new version on a Connection record, it will also automatically update within any threads where you are already using that document, saving you from having to add new versions to those individual threads as well. 💥
To see previous versions of the document/file, choose Document details in the ellipsis menu against that file.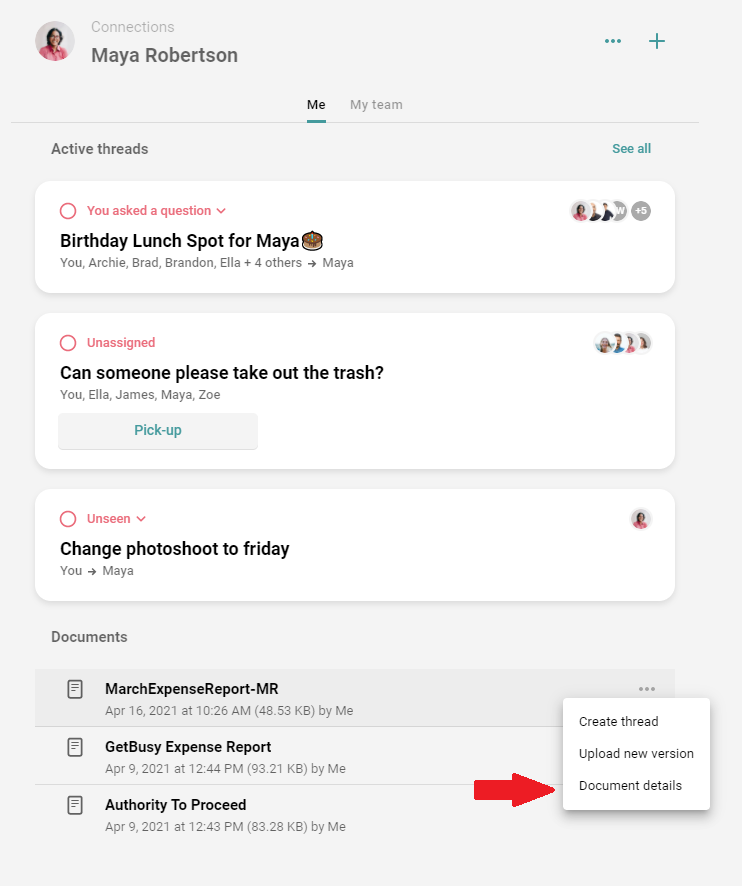 Files can be as large as 200MB each. Upload as many versions of the document as needed and view older versions all in one place. Each version will be ordered chronologically based on when the document was uploaded to GetBusy.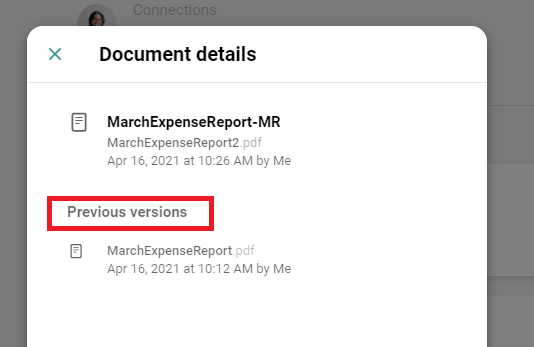 Now that you have mastered Document Versions, read more about: