In the 'Assigned to me' area, you can organise and prioritise what you need to work on and when. 💪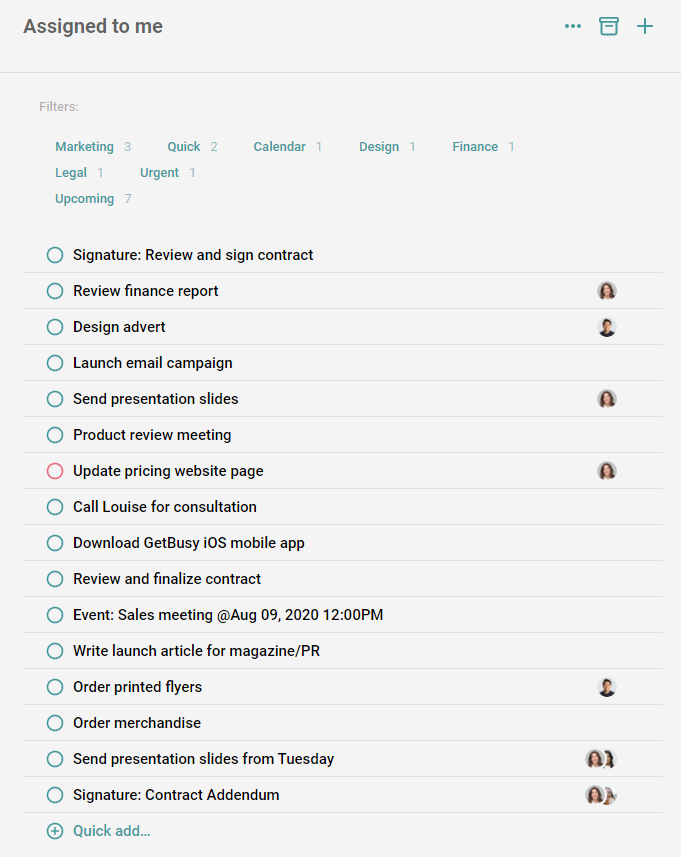 Your main 'active' task list here should be things you currently need to action or update, focusing on today or the short term. You can then keep on top of stuff you need to do right now during your day. Anything you can't fit into today, should ideally be paused - paused tasks will then move automatically to under the 'Paused' section.
New tasks created for you, whether created by yourself or by others, will be automatically placed at the bottom of your active list.
Prioritise and order your own tasks that you're currently working on by simply dragging the tasks within the 'In Progress' section to the order you wish to work on them! You can then work your way down this list. ⬇
For example, you may decide to organise them so that you complete simpler, quicker tasks first thing in the day to get them out of the way, leaving tougher, more complex tasks for later in the day, or vice versa.
If using the GetBusy mobile app 📱, click 'Edit' at the bottom right of the screen first and then you'll be able to start dragging tasks into order using the burger style icons that will appear next to each task.
Any tasks you need to do beyond today (i.e. that you won't get round to today) should be paused until the specific day and time in the future when you want to carry out or reassess this task.
This enables you to better plan your day and the future into more achievable workloads, so that you are not overwhelmed by seeing a huge list of things you need to do all at the same time. 🙈
Once items are paused, you can forget about them until they automatically resume at your chosen date and time, therefore focusing on the tasks in hand! 🎯
If you get through today's list faster than expected, you can feel accomplished and keep going 🏃‍♀️ by bringing forward items originally planned for the future, by opening the task and clicking to 'resume' immediately.

Paused tasks are automatically ordered under the Paused section by date, with the soonest-to-resume item at the top. To reorder paused items, adjust the pause date/time.
GetBusy helps you stay organised, focused and accomplishing more! 🙌
Read more about how you can organise your GetBusy: