Getting things signed is critical for business, whether it be contract agreements, letters, invoices, approvals, etc.
Signatures are a type of thread in GetBusy that are based on tasks, and they share many of the same traits.
They allow you to digitally and compliantly sign documents yourself, or request signatures from others - with automatic reminders to make sure they're not missed.
Watch this quick video to see how they work:
This guide covers:
- Preparing (and sharing) a document to be electronically signed
- How to e-sign a document in GetBusy
- What recipients see when sent a document
Creating a signature thread
When creating a new thread, you'll find the option to create a signature request in the type selector.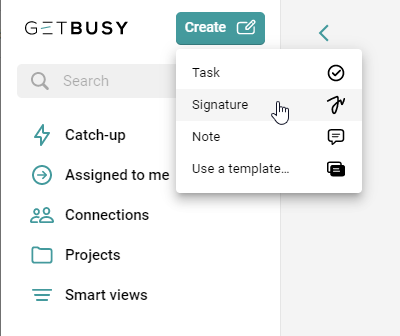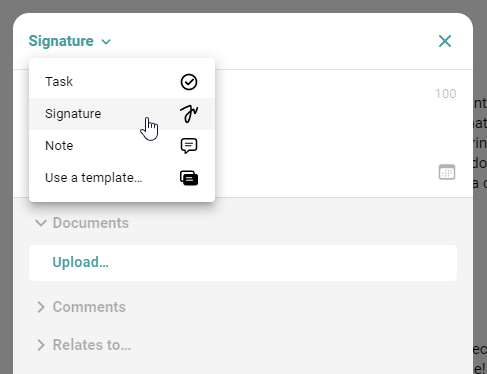 First, add everyone who needs to be involved, which should include both the people responsible for signing the document as well as any others that require need visibility or to be aware.
Add a title and extra information as required, and attach the document (pdf) you want to be signed.
Additional supporting documents/files that do not necessarily need to be signed can also be attached to the thread for reference.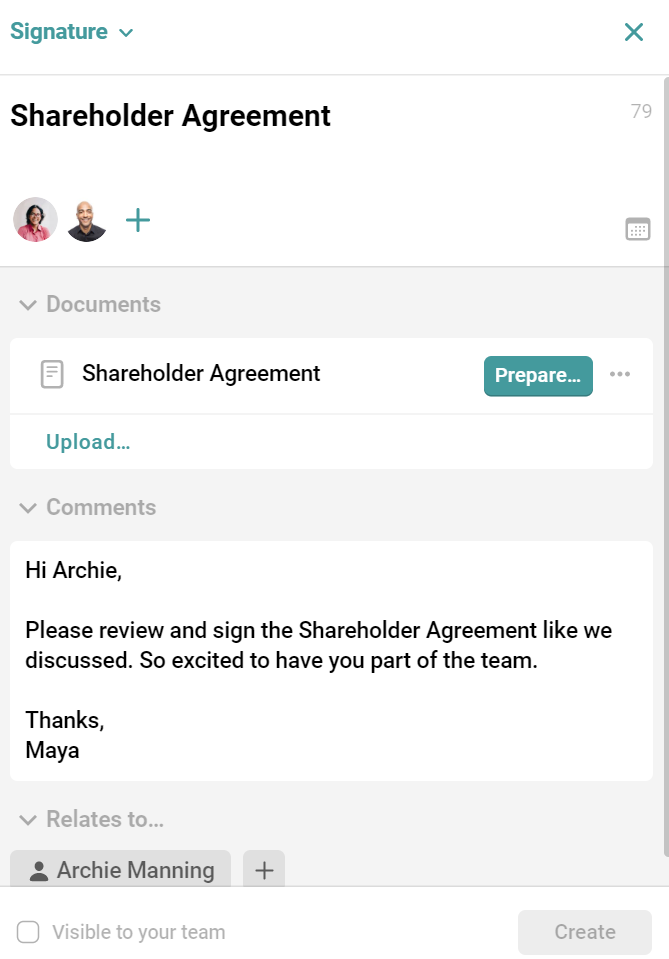 Once you've uploaded the pdf document that you need to get signed, you'll then need to click to Prepare... the document for who needs to sign and where/how, whether it's yourself or someone else.

The ellipsis ... menu also gives you options to prepare or remove the pdf document.

The Prepare... button will open a preview of the document and give you two signing options to choose between depending on what you need.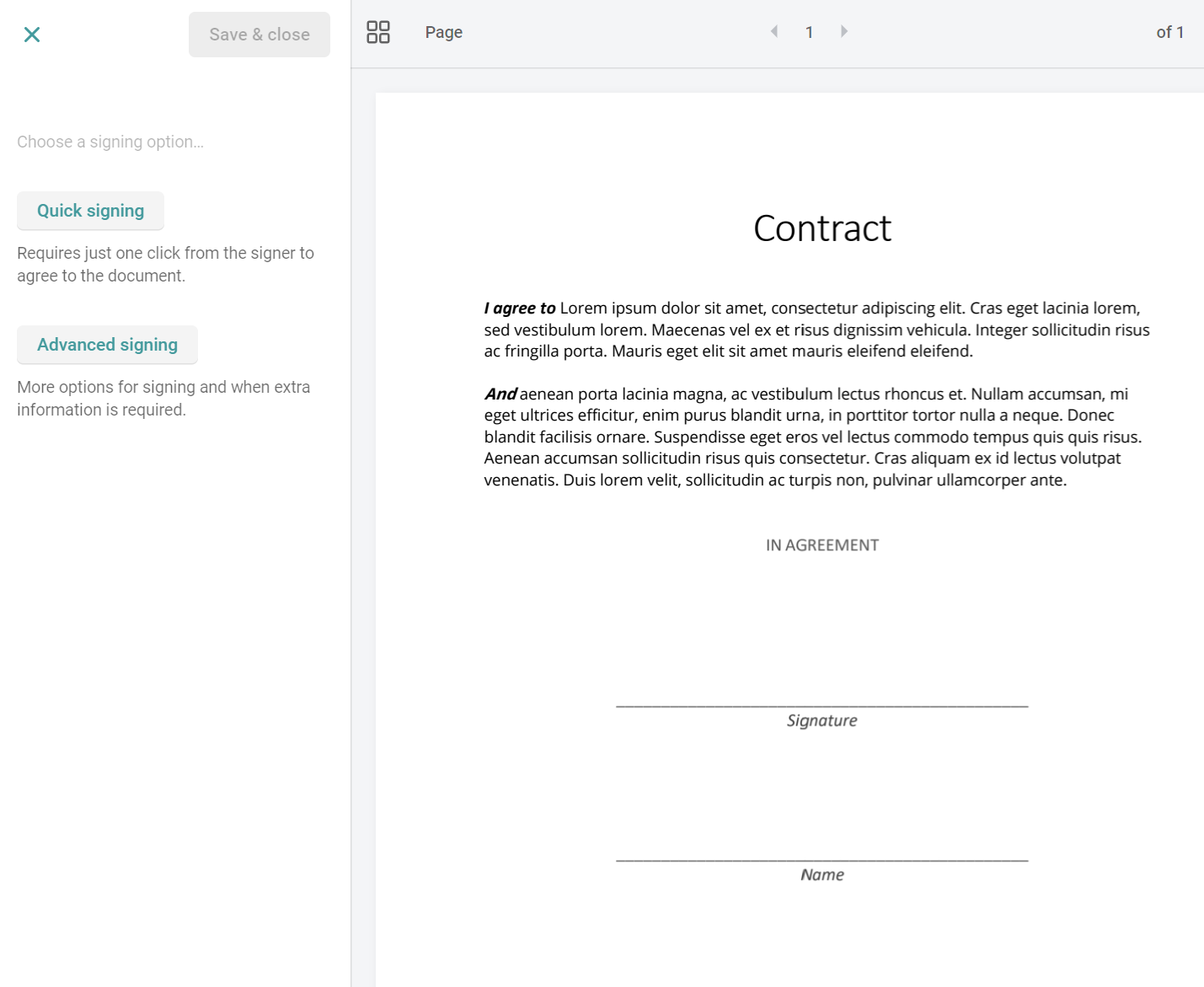 1) Quick signing
Choose the 'Quick signing' option if you're happy for someone to simply 'agree' to the contents of your document with one click i.e. you don't require a drawn signature or extra information. With this option, just select who you want to sign the document, Save & close the configuration screen, then finish creating your thread.
If no other names are appearing in the list other than yourself (Me), then you may not have initially added any participants to the thread before you uploaded the document, in which case you will need to go back to the main thread information to add them first before you can prepare your document for other people to sign.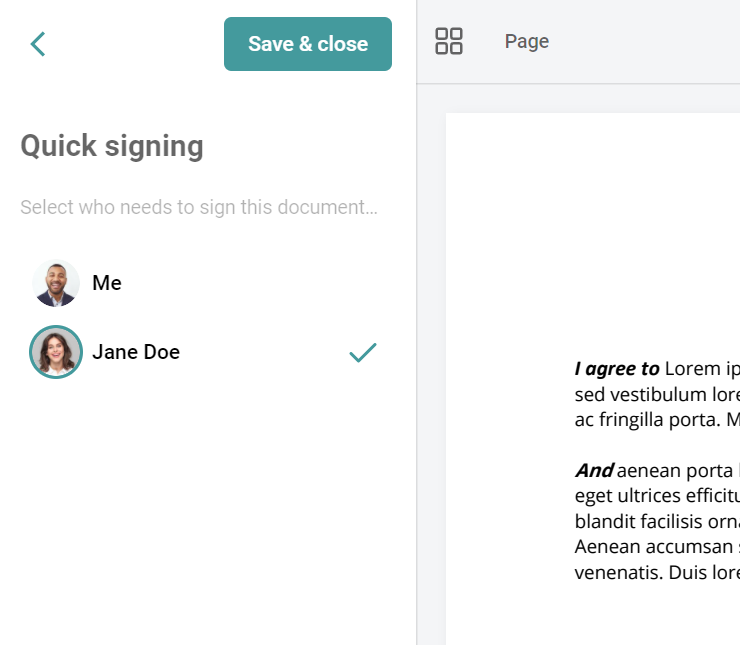 2) Advanced signing
The advanced signing option on the other hand is for if you will require a wet/drawn signature or extra information (text/date) inputted on your document.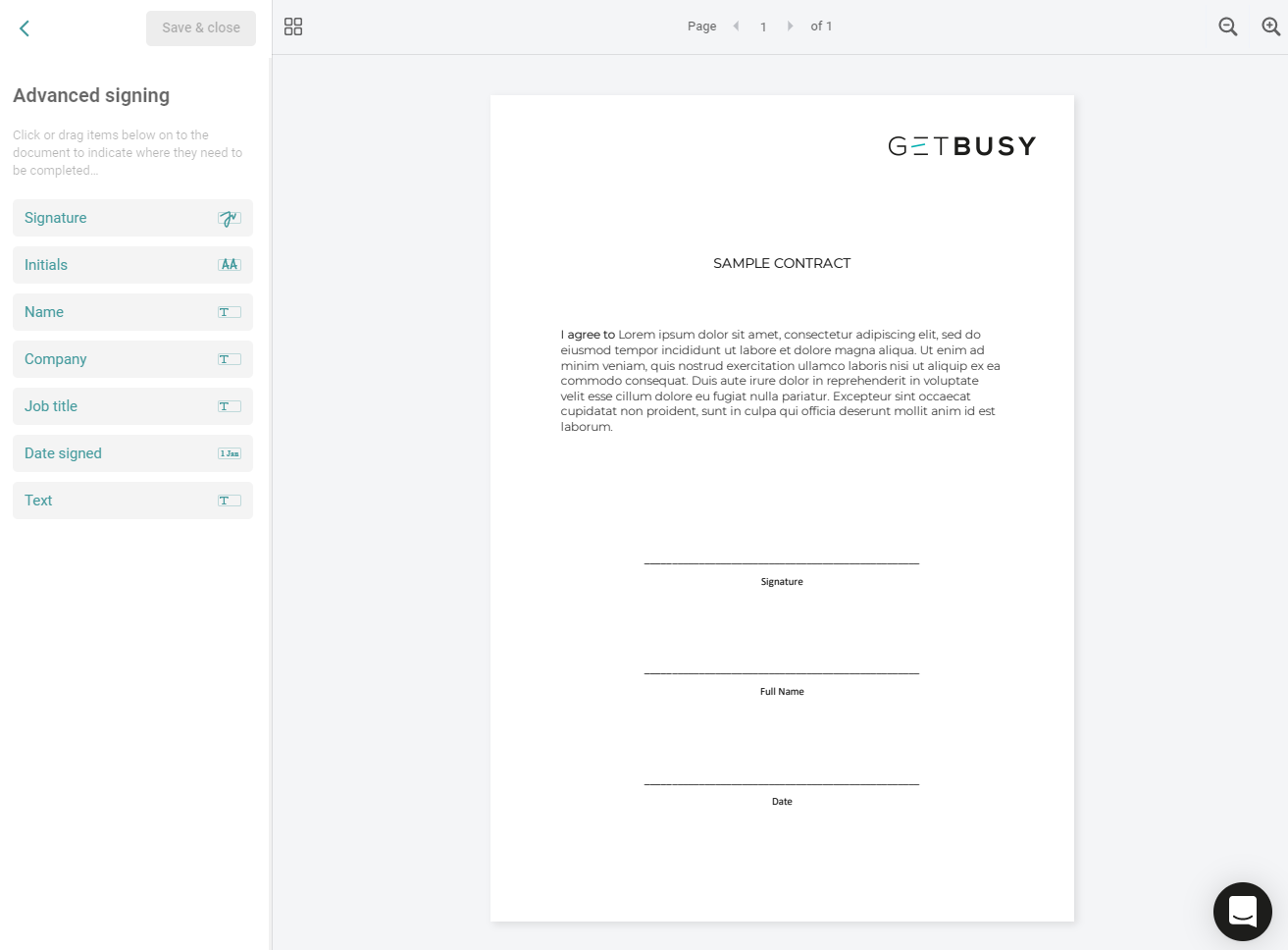 Simply drag & drop (or click and move) signature or other fields from the left hand main menu to the appropriate locations within the document preview, where you need them to be completed.
You can select, move, delete and adjust the size of each of the fields as needed.
Once the fields are positioned, make sure to assign each element to the appropriate participant that needs to complete it, or to yourself if it's you that needs to complete it.
Just click the field, and choose a name from the participant dropdown list.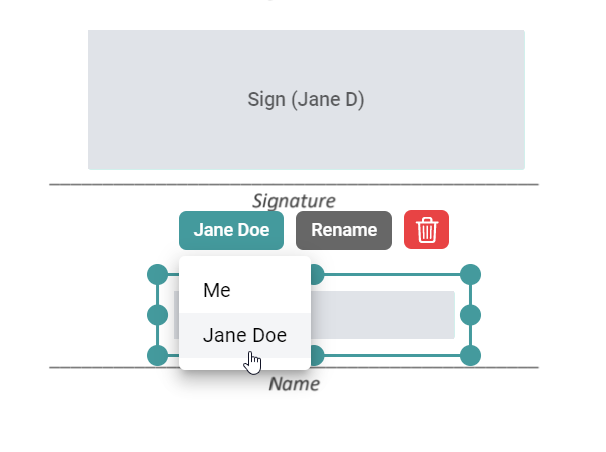 If no other names are appearing in the list other than yourself (Me), then you may not have initially added any participants to the thread before you uploaded the document, in which case you will need to go back to the main thread information to add them first before you can prepare your document for other people to sign.
Text fields by default are named 'Text', however you can rename a text field if you wish - to make it clearer what you need someone to enter here e.g. 'Full Name'.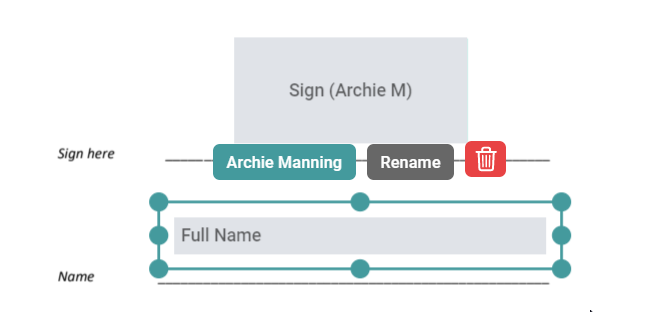 ---
Once you have set up who needs to sign where and how whether using Quick or Advanced Signing, click to Save & close your document.
Any participant who has been allocated a signing control during configuration will now appear next to the document.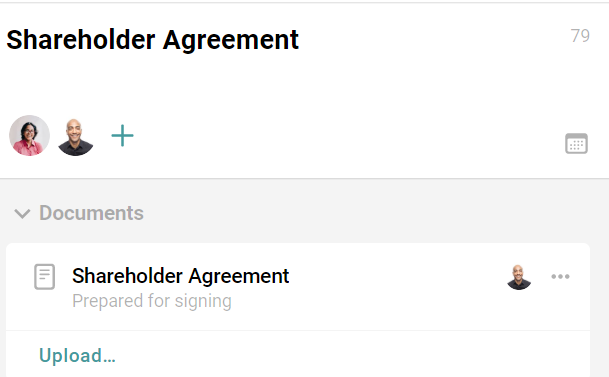 Once the document has been prepared for signature, finally click to 'Create' the signature task.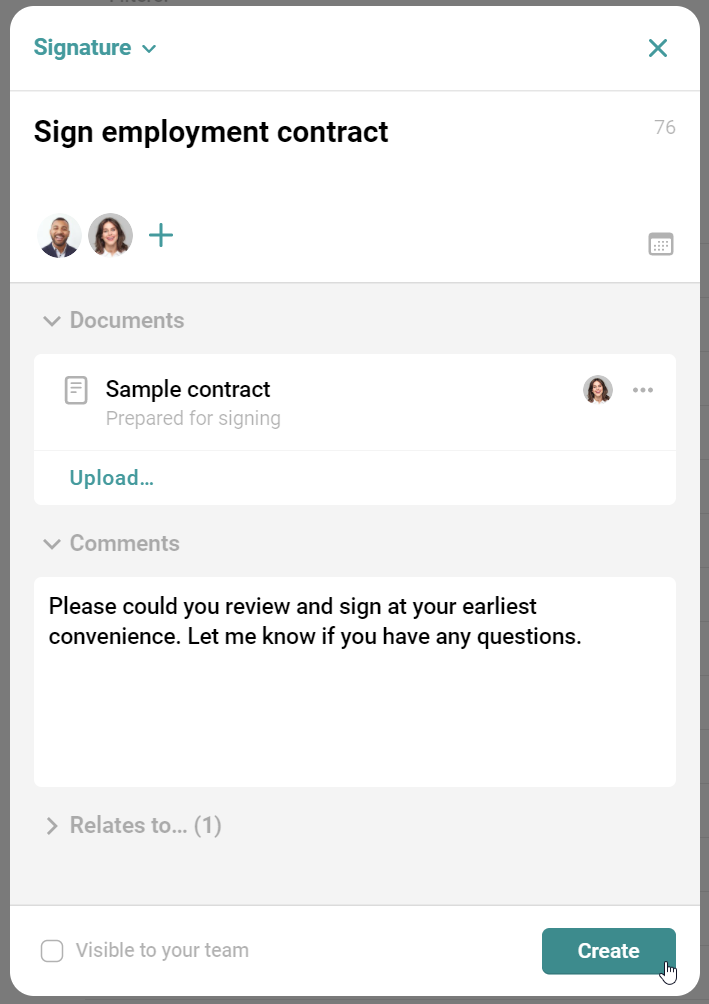 The requested signer/s will receive a notification of the request in their Catch-Up and will see the task listed in their Assigned to me. The task will track when the requested signer has viewed the task, and GetBusy will help automatically remind them if they don't sign it right away.
Signing a document
Signing a document in GetBusy is quick and easy for anyone, and the chat-like thread allows participants to directly discuss comments, questions, updates or changes that may be required before signing a document.
N.B. For those outside of your team that don't have a GetBusy account, they will receive an email notification with your branding and a preview of your message with a secure link to the document they need to sign. They will not need to create a GetBusy account in order to view, sign or respond to your message and document, making it a simple, seamless signing experience for anyone.
Recipients of signature threads will be prompted to Read & sign... the document.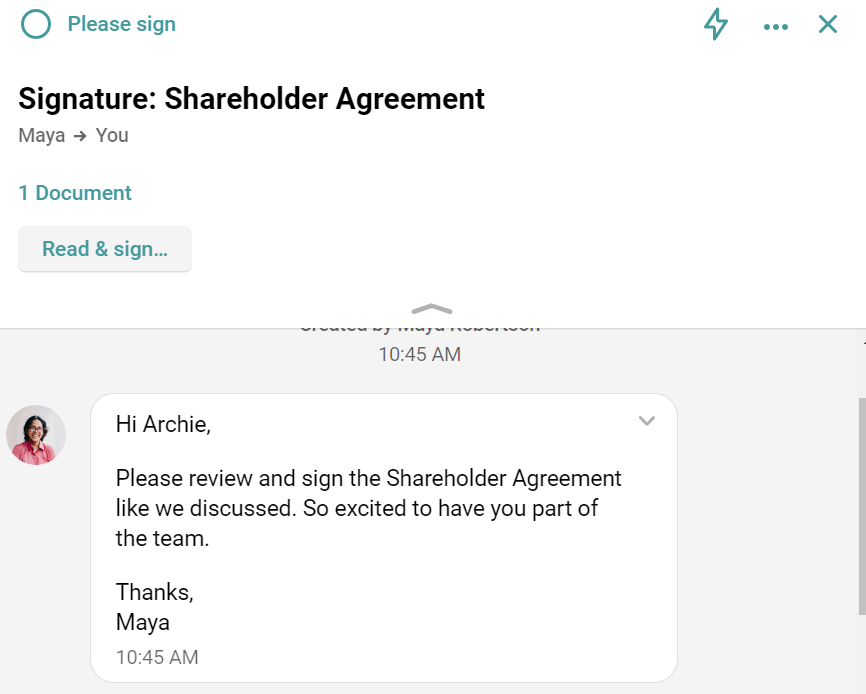 Read & sign... will open a preview of the document with navigation and guidance on how to sign it.
Quick signing
Signing the document is a couple of taps away, just tick the Agree & sign option, then Save & finish.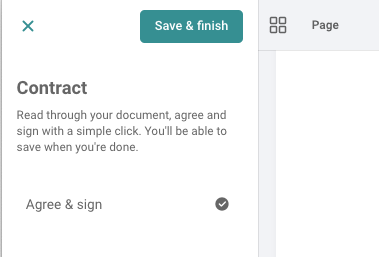 Advanced signing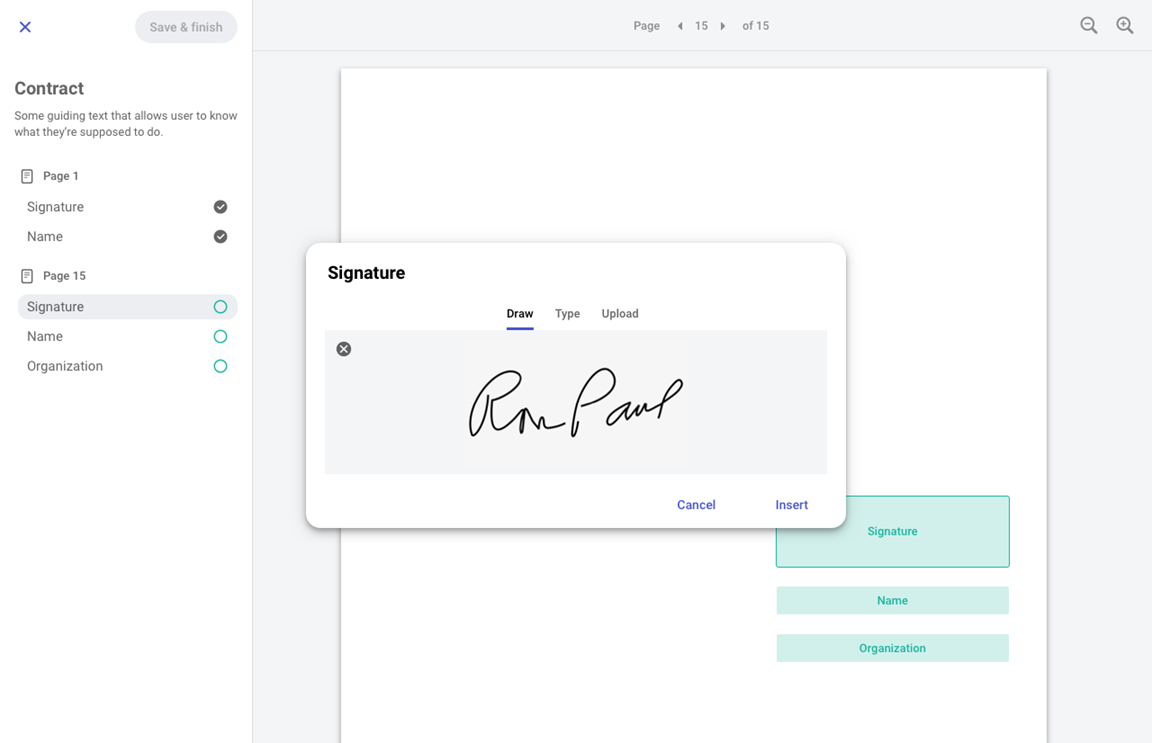 Signature fields prompt for a 'written' signature, which can either be drawn or typed.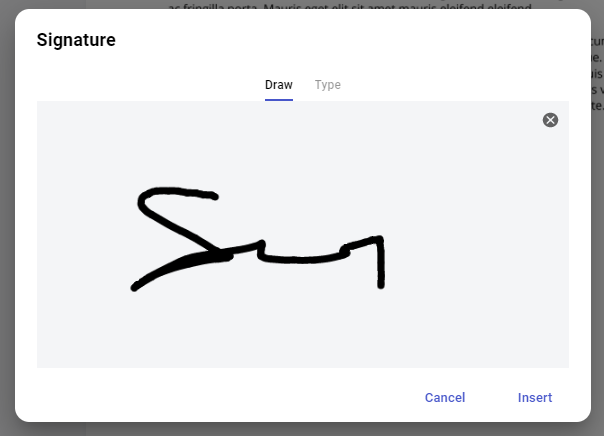 Text fields can be typed into directly.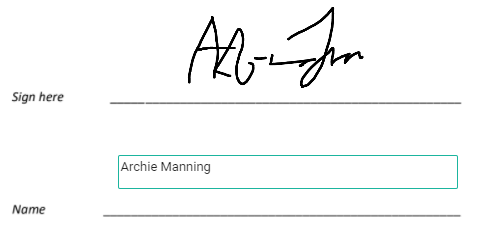 Once all signing requirements have been fulfilled, click Save and finish to complete the signing process.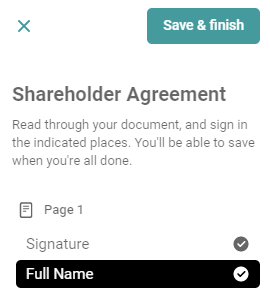 A signature certificate containing additional verification information will automatically be appended to the signed document.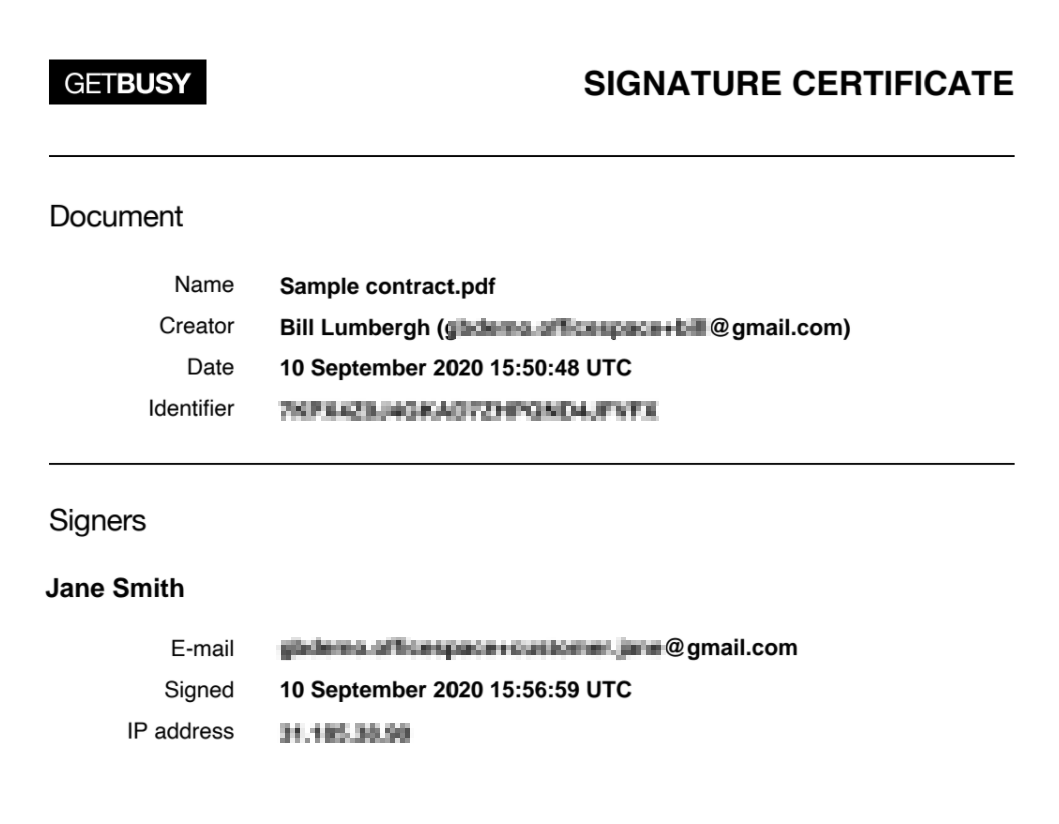 The full signed version of the document will automatically be attached to the signature thread for reference.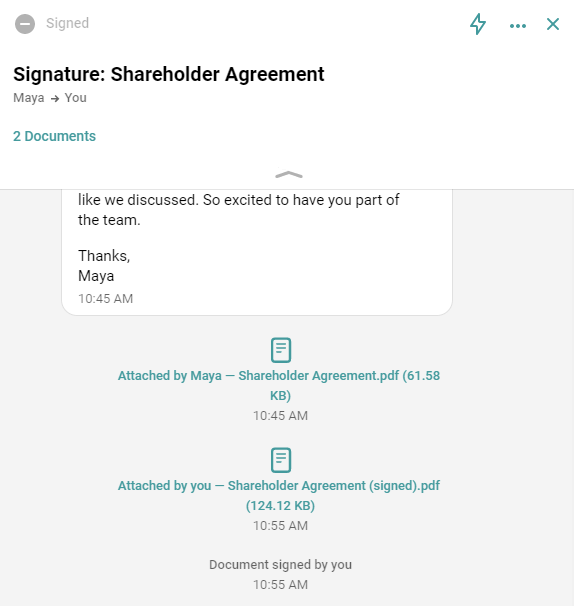 The original signature requester will be notified once it has been signed so they can check the signed document and/or respond if necessary, before then marking the signature task as complete.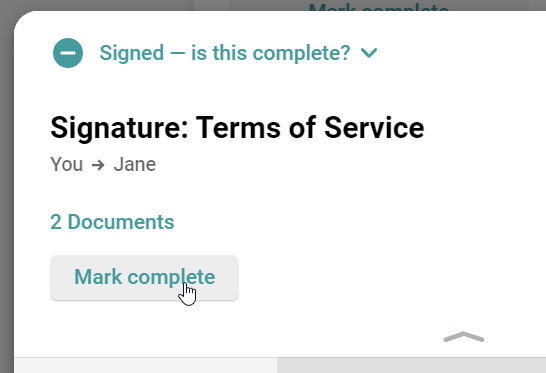 The signed document is stored securely in GetBusy and any participants can access and refer to the signed document or download and save it elsewhere if needed at any point.
The signed document will also be stored against the Connection's record, so you can create new threads with them if needed and share with others.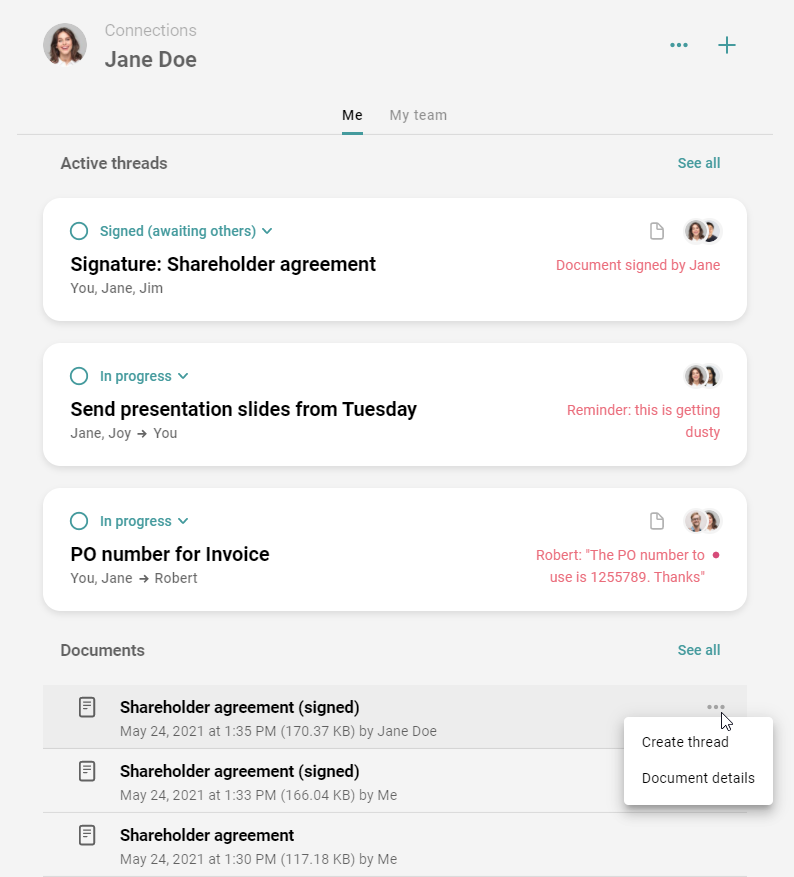 Tracking signing progress
GetBusy keeps track of who has signed the document and when, so you can clearly see who you may still be waiting on - just click on the participants listed on a signature thread.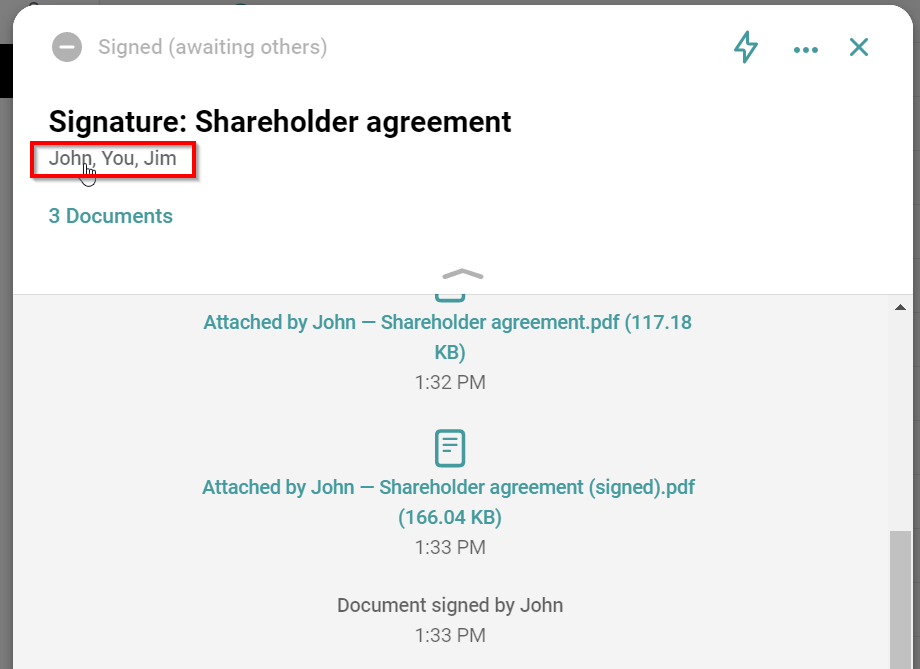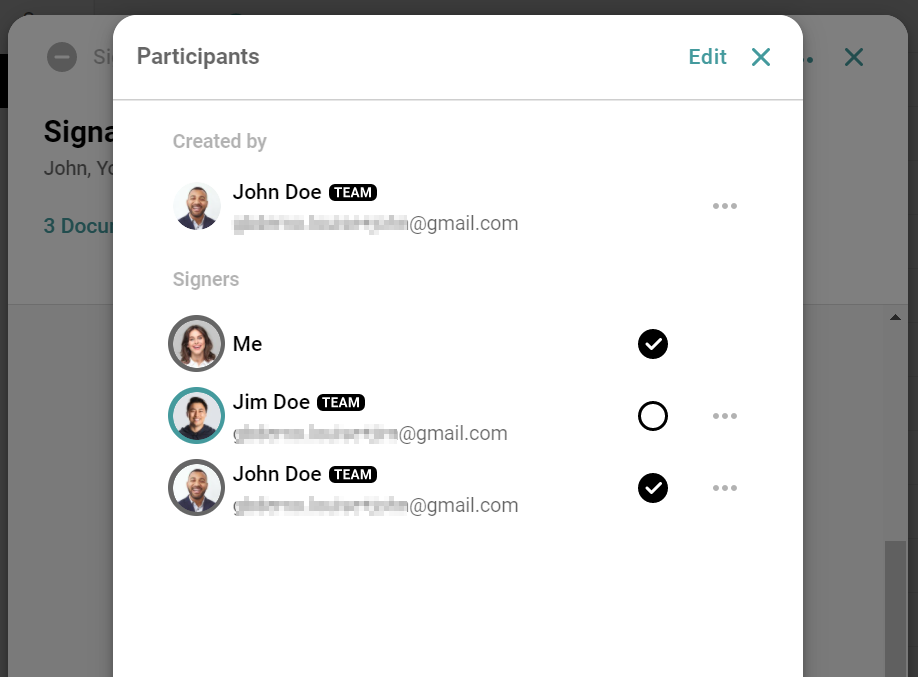 A signature task will remain on your Assigned to me list until all parties have successfully signed the document and completed, so that it's not forgotten.
Coming soon
Signature features in GetBusy are being added and enhanced rapidly. Please visit the Product Roadmap in the Settings menu of the GetBusy app to find out what's coming and let us know what matters most to you.
---
Need some inspiration for tasks you can create in GetBusy?
Check out some examples and suggestions here to give you some ideas.