Use signature templates to save time and effort.
The process of getting your documents electronically signed is often repeated with simple variations. Key information such as company names, dates and signatories may change, but the length and main content of the document being signed will remain the same. You can create a Signature template in a few simple steps.
In this guide:
- Creating a signature template
- Preparing documents for signing
- Creating a thread from a signature template
Creating a signature template
To create a signature thread template in Workiro head over to Settings > Templates and hit the new template (+) button. When prompted, choose to create a Signature template.
Complete the template with repeatable content that will be used each time you create a thread from it. Don't worry, you can always tweak this when you use the template.
- Thread title: Invoice, letter of engagement, Non-disclosure agreement, Tax return etc
- Participants: The thread creator will always be added. You can include specific connections here too, but for true flexibility you'll want to use placeholder signers
- Documents: Upload the PDF(s) that will require signing, and any supplementary documents
- Comments: Can be usefully used to add any extra instructions for the signers
- Relates to: 'Categorise' or 'file' your thread by relating it to connections, tags, or projects
In its most basic form you have a signature template ready to go. You can name and save it now, checking the box if it is going to be shared with your team.
Whilst such a simple template setup may be useful, you would still have to configure the document for signing each time it's used. Continue reading and see how to prepare your documents for signing.
Preparing documents for signing
Signature templates become much more powerful when you prepare the documents for signing. Of course it's unlikely you'll know exactly who will be signing a document when you create the template, which is where placeholder signers come in.
Placeholder signers
After uploading your document to the template select the button to 'Prepare...' The document will display a list of placeholder signers.
- Adding placeholder signers
Use the 'Add placeholder...' button to name a new placeholder signer and save it to the list. For example; Client, Employee, Sales Rep, Manager, Supplier, Witness, Landlord, Tenant, etc
Having completed your list of placeholder signers, select 'Next' to progress to the signing options.
Signing options
Choose between 'Quick' and 'Advanced' signing then continue to configure your document signers as described in this help center article.
- Quick signing
Quick signing requires just one click from the signer(s) to sign the document. Choose who will be required to sign the document from the list of possible signers (Creator, placeholder signers and specific connections).
Creator
When selecting who needs to sign the document 'creator' refers to whoever uses the template to create a signature thread.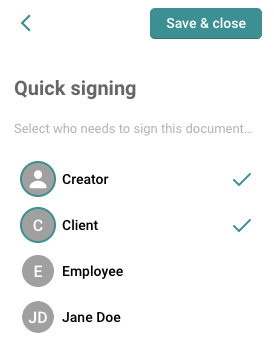 In this example both thread creator and a client will be required to sign
- Advanced signing
Advanced signing allows more options for signing, such as a wet/drawn signature or extra information (text/date) inputted on your document. When you configure your document you can select from the list of possible signers (Creator, placeholder signers and specific connections).
Placeholder document
Select the checkbox to designate the document you are configuring as a placeholder. This option prompts people using the template to upload the required document when creating the thread. You will want to use this option if your document content changes slightly each time, but when signature fields remain the same.
Once you have configured your document(s) for signing choose 'Save and close' to return to the signature thread template. Don't forget to save the template if you haven't already.
Creating a thread from a signature template
Use template...
To start a new thread from a template use the main 'Create' button, choose to 'Use template...' and select your signature thread template. The thread creation screen will appear, pre-populated with data from the template.
Apply

template...
This option allows you to merge your template with a partially created thread. This is useful, for example, when you have a document already attached via an integration. From the drop-down menu on the thread creation screen choose to 'Apply template...'
Replacing a placeholder document
Where prompted, upload the variation of the document to be used with the template, for example a tax return, non-disclosure agreement etc
If you have used the 'Apply template...' option then you will have the option to select from documents that are already attached.
Selecting signers
Where a document has been configured to use placeholder signers you are now required to 'Select signers' before you can create the thread.
The screens that follow allow you to choose, from your directory of connections, who applies to each placeholder.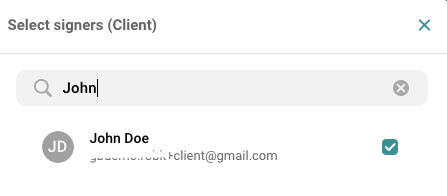 In this example John is selected as the client
Once you've selected the signers you are returned to the thread creation screen. Since you've already configured the rest of the thread details all that remains is to hit the 'Create' button.
You're done!
The power of Workiro signature thread templates means that with just a couple of clicks you're sending a fully configured legally compliant document for signature.
Of course you can also tweak the title, personalise the comments, add unique documents or customise the related information to your hearts content.