Welcome to GetBusy!
We've created this guide for anyone new to GetBusy to take you through the first steps, so you and your team can get going with confidence. We'll cover:
Key Information
Getting Started: The Basics
Getting Busier
Getting Advanced
Key Information
There are 5 key areas in GetBusy:
Where to find the things you need to do. Your to-do list. All tasks you've created for yourself or assigned to you by others. Prioritise and order your tasks, then mark them as complete once done.
Catch up

Like your inbox – for everything that's new or needs your attention.

Get up-to-speed on latest activity, updates, quickly action things or hold important tasks in Catch-up for later.

Focus
See what else is going on and filter your view, organised by tags, projects and other smart views.
Connections
The list of your contacts and organisations that you and team work with - like folders or records - where you can see any tasks, discussions and files related to them.
Settings
Manage your profile, team, templates, team account subscription and see product updates.
There are 3 types of GetBusy task you can create: To-do's, Notes and E-signatures
Getting Started: The Basics
1. Install the GetBusy app for Desktopfor Windows or Mac - for easiest access, the best experience and visibility, and fewer email notifications.
If using a Chromebook, the best way to use GetBusy is in the web browser, but you can add a shortcut to the GetBusy login page to your Chromebook Home page/shelf for easy access.
2. Set up your profile - personal and organisation/team.
3. Set up your team - if you are the Team Owner > Settings > Team > Invite.
Team members must be invited this way before they sign up to/create their GetBusy account.
If those you wish to be part of your team have already created their GetBusy account before being invited and added to your team, please contact our Support Team via help@getbusy.com. We can then help join them to the relevant team, provided they have not already created their own separate team.
4. Pre-add your other contacts as (non-team/external) to your Connectionslist, which is also your team directory.
5. Create and add your own to-do list and tasks with other people.
-> See here for inspiration and examples of tasks you could create.
6. Pausetasks to manage your workload, when you want to do them and to control when you want to be reminded.
-> Leaving tasks unpaused means that you are actively or imminently working on them today, and you will receive automated reminders every 3 days if still incomplete or not updated.
7. Send and configure pdf documents for signing.
8. Upload and store documents and file for personal or internal team reference on individual contact or company records in the Connections area.
9. Mark tasks as complete once done! ✅
Getting Busier
1. Create personal templates- for repetitive tasks and processes, saving you time in creating tasks from scratch.
2. Sharetemplates with the team - for consistent processes.
3. Set scheduleson templates - for recurring tasks to automatically be created when you want.
4. Organise and filter tasks and conversations - with your own tag labels and team project names.
5. Check the 'Upcoming' filters in Assigned to me and Focus - to see any tasks set with a deadline date, and see what's overdue or coming up soon.
6. Notice the nudging - see 'getting dusty' reminders on active tasks that haven't been updated in 3 days, or put extra pressure on someone by poking them 👉 from the Comments box on a task.
7. Stay on top of your updates in Catch-up and keep it clear - hold/pin items to the top of your Catch-up for later, using the ⚡ icon at the top of any task.
Getting Advanced: Shortcuts and Streamlining
1. Add the GetBusy Chrome or Microsoft Edge extension
So you can quickly add any email address from any web page as a contact and work on tasks with them in GetBusy, or to view any tasks and documents with existing contacts - with just one click.
2. Add the GetBusy add-in to Outlook
Turn any email into unmissable, trackable GetBusy tasks with one click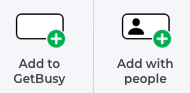 3. Keyboard shortcut/s
Create your own shortcuts to instantly open a GetBusy task no matter what's on your screen. Even configure to pre-add your team or specific people.
4. Zapier integrations
Explore Zapier and our pre-built Zaps to start connecting GetBusy with your other apps/tools to automate processes.
E.g. automatically create GetBusy tasks or connections from Slack, emails, CRM systems, calendars, spreadsheets, project management systems, etc.
-----
Contact us if you have any questions, technical issues or you'd like a personalised walk-through to see GetBusy fully in action.
You can also see more guides and tips in our Help Centre.