Tasks are the most frequently used type of thread. A task is an action that anyone needs to do and they help everyone involved stay up-to-date and those responsible to get things done.
There are 6 different places you can start creating a Task:
1. From the Create

icon - in the side navigation bar if using the web/desktop app, or along the top of your mobile screen if using the native mobile app.
Web/Desktop app: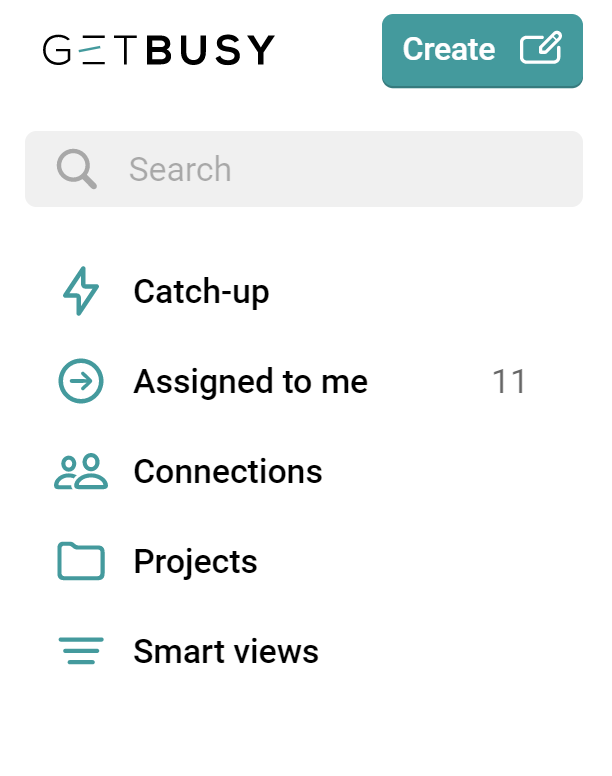 Mobile app: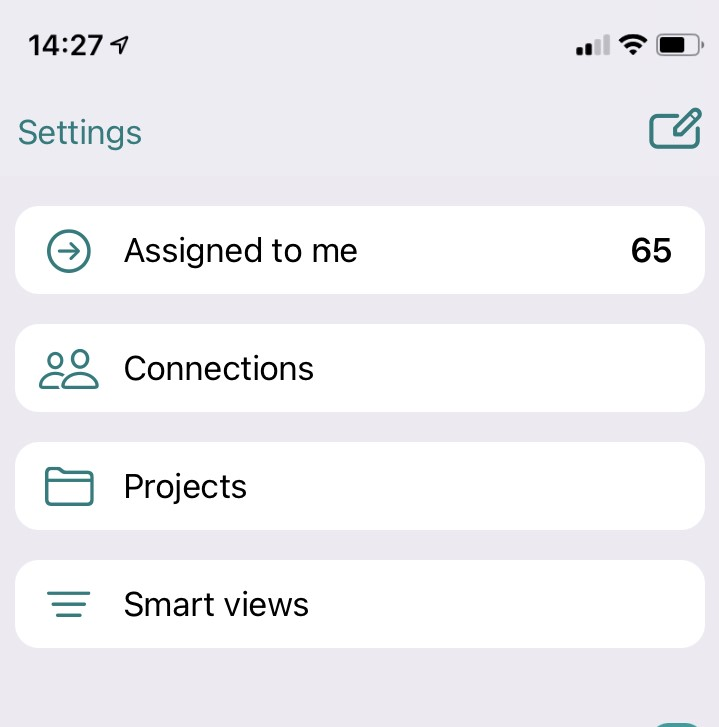 2. In the 'Assigned to me' area, use the

icon at the top right of the screen.
You can also use the '+ Quick add' option at the bottom of your own active to-do list to add task names quickly for yourself (just type in the title of your task and hit return/enter'). You can then edit, add extra information, add participants, add attachments, or add project or private tags should you wish to later.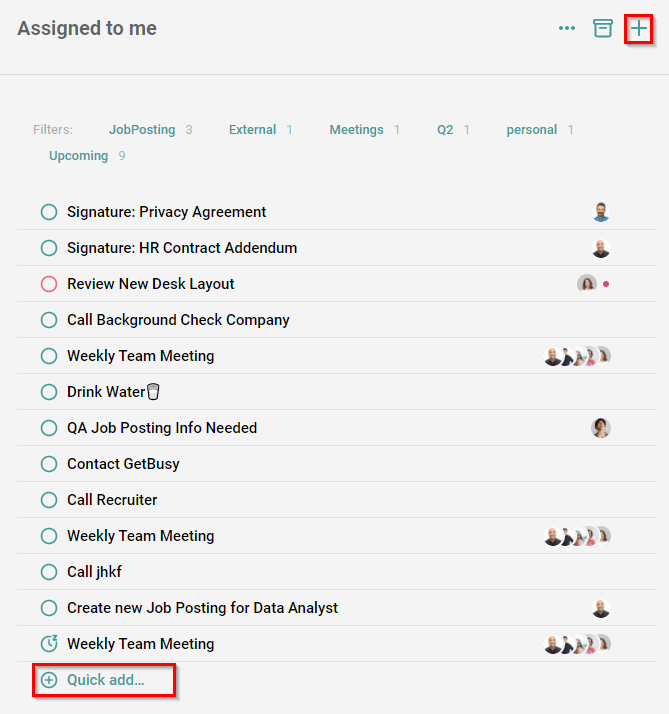 3. Click on a connection, then click the + icon.

4. From using any of the templates you have created in the Templates area found within the Settings menu - select 'Use' template or the 'Use template' icon pictured below, to create a task from the template.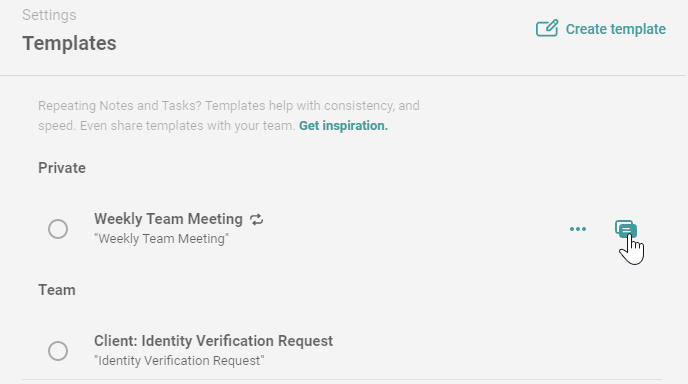 5. From any comment within any existing task/thread with a downward arrow.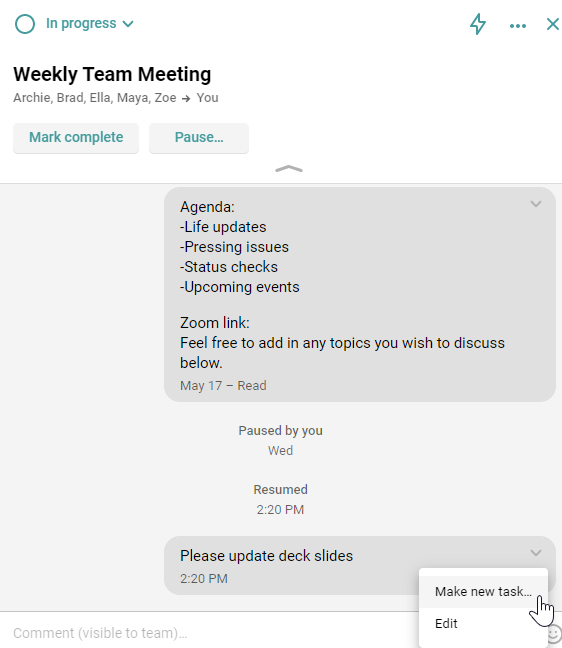 6. From any of the specific projects, private tags or some smart views within the Focus area with the

icon.

---
You can create personal tasks for yourself or tasks/threads with other people (participants).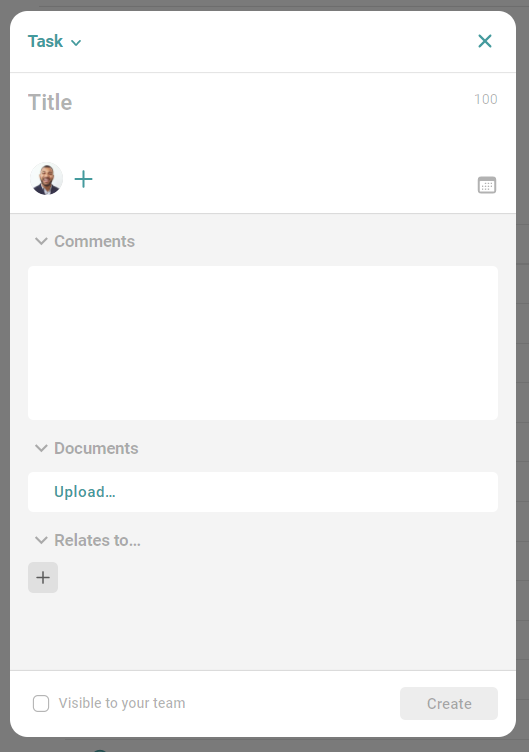 When creating a task, simply complete the information:
1. Title (required) - Name your task. Briefly summarize the action that needs to be done.
2. Participants (required) - who does this task involve? Just yourself or add your participants, then highlight who is responsible/accountable for the action by 'assigning' by them so that their picture is ticked or leave unassigned for someone to pick up.
3. Comments (optional) - Add a message, more detail, comments or links related to the action that needs to be done.
4. Due date (optional) - Specify if your task has a clear deadline date for completion by clicking the calendar icon.
5. Documents (optional)- Attach any files, documents or images by dragging and dropping, or uploading, from your device or from Google Drive / Dropbox / Virtual Cabinet.
6. Relates to (optional) - Categorise and tag your task:
i) by individual person or organisation (connection),
ii) as part of a shared team project, so that it's visible to the rest of your team, or by
iii) private tags which is a label that is only visible to you e.g. urgent or important or subject-related.
iv) team tags, which are visible to your team.
7. Visible to your team - Decide whether to keep this task private to you and any direct participants, or check the box if you want the whole team to be able to see what's going on.
Finally, save by clicking 'Create'.
Tasks can be edited or added to at any point.
Now you're ready to start adding tasks for yourself and for others so you can stay on top of things that you need to do and keep track. ✅
Not sure which type of thread to create? Read about the different types of tasks and threads you can create in GetBusy.
Or need some inspiration for tasks you can create? Check out some examples and suggestions here to give you some ideas.
You can also learn:
how to create templates to use to save you from creating the same or similar tasks from scratch every time;