The GetBusy Desktop App makes it quicker and easier for you to access GetBusy on your computer.
To download the GetBusy Desktop app for Windows or Mac, go to https://app.getbusy.com/downloads, and click the option depending on your operating system.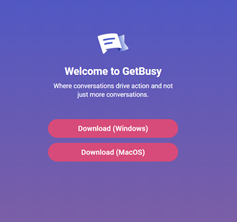 Once downloaded, make sure to pin the desktop app to your taskbar for easiest ongoing access.
You'll also receive push notifications so you don't miss a thing!